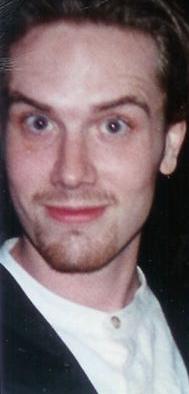 J.C. Maçek III
The World's Greatest Critic!
---
Well, last night I watched the latest feature from William Malone, the Genius who directed "Honey, I Shrunk the Kids: The TV Show!" It's called FeardotCom, and I kind of liked it... but you know I really liked it better the first time I saw it back when it was called The Ring! Look, I can't begin to tell you how big of a rip off FeardotCom is of The Ring, but I'm going to try! It's really a shame, in fact, because this is the kind of misfire that really makes me feel sorry for the cast, crew and some of the others to whom this film is their bread and butter! I mean, there really was some intention of quality here (though certainly not on the part of the writers), but I have to repeat the old adage: "You can't polish a Turd!" Even if this had been a completely original film (and brother, it ain't) it's still a bad movie from head to toe. I give it Two Stars out of five because somehow they managed to get some pretty amazing visuals into the mix, and at least one truly beautiful moment. As my daddio used to say though, if you have one drop of wine in a gallon of sewage you still have a gallon of sewage!
How much has FeardotCom Ripped off The Ring?
Let me COUNT the ways:
---
In the The Ring the viewing of a visual medium (a video cassette) leads to your supernatural death within exactly seven days! In the amazingly different FeardotCom the viewing of a visual medium (this time a Web Site) leads to your supernatural death in exactly two days!
In both films the visual medium (and the deaths) are the result of the ghost of a murdered young girl who is trying to be found and avenged.
In both films the time it takes to die (7 days and 2 days respectively) are equivalent to the amount of time it took for the little girl to die!
In both films the little girl is able to make warning phone calls to her helper/ victims!
In both films the little girl's corpse is found in a hidden underwater reserve hidden beneath a building!
In both films the finding and proper handling of the Corpse is a ruse and doesn't solve the problem!
Both films feature a female protagonist investigating the strangeness on her own with little or no help!
Both Female protagonists' investigations lead to the infection of their male counterparts with the oncoming death!
Both films end in a fade to credits! (Damning evidence that last one, no?)
---
---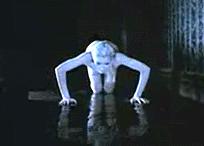 ---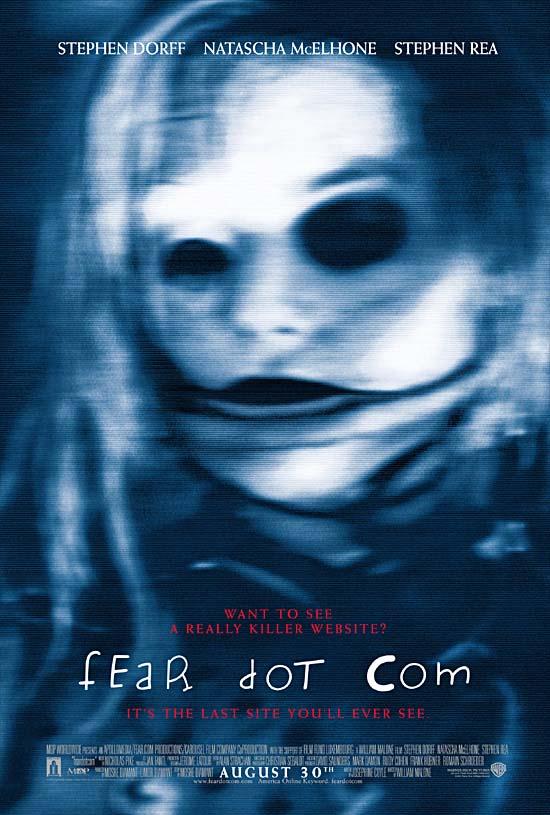 But wait, some of you are screaming, how could this be a rip off of The Ring? This movie came out first! Survey says? XXX AAAAAAAAAAAAAAAAAAAAAH XXX! Sorry, Gore Verbinski's The Ring is a fairly loyal remake of the Japanese film Ringu by Nakata Hideo! The much publicized remake was easily preceded by Moshe Diamant simply renting Ringu and saying "I could make money by ripp-, uh, I mean, creating a tribute to this movie!" Let me tell you... most of us could do that! Folks, this isn't exactly industrial espionage! This film is at best an unfunny spoof! At worst... plagiarism!

The Plot of FeardotCom basically surrounds Stephen Dorff's Detective Mike Reilly who has the dubious distinction of being partnered up with Jeffrey Combs of Reanimator fame. He's had a cat-and-mouse game with a serial killer known as The Doctor (Stephen "What the Eff-You-See-Kay am I doing in this movie?" Rea) for quite some time. Suddenly people start turning up dead in the same weird way, bleeding from the eyes, nose and mouth. Some sort of Hemorrhagic virus is blamed, then dismissed when our female protagonist Natascha McElhone's Dr. Terry Huston enters the scene. It's soon discovered that all of the victims computers have melted (uh-huh-uh-huh-uh-huh) and all of the deaths were preceded by a visit to a freaky website with Dave McKean-like visuals known as FeardotCom! Please note... that's not Fear.com which is apparently some other site that some other guy got registered before Diamant's brilliant idea, but it's actually FeardotCom.com which is redundant at best. Fear Dot Com... Dot Com... Seriously... does that even make sense? Maybe it's supposed to sound like an echo effect???

Fear

Fear

Fear

Dot

Dot

Dot

Com

Com

Com

Okay, so from that point, if you've seen Ringu or The Ring then you've seen the rest of this movie. The rip offs here are manifold (see sidebar) but even if this wasn't a complete unauthorized remake of Ringu it would still be an Oar slap to the ass-cheek. Mostly the blame can be placed squarely on Moshe Diamant and Screenwriter Josephine Coyle's shoulders, but I would suggest that the main culprit here was time. Troughout the entire film it seemed clear that the entire production was a race to beat The Ring into theatres, and that shows in the way this movie was acted.

None of these actors are all that bad. I know that's strange to say because I've said so many mean things about Stephen Dorff that he and David "Pariah" Caruso could get together with Gregory Benford and Mike Binder for a class action suit, but my opinion has changed. Dorff is really the only actor here who is able to make anything out of the borrowed plot and choppy dialogue. He's actually good, and he makes a thin character likeable. The rest of the actors are also good, but their acting is pretty poor here. The impression is given that the first take (where the actors weren't laughing) of every shot was used.

So many of the actors deliver their lines with difficulty, or a complete struggle with the English Language that drama is sacrificed for expedience. How Rea agreed to pretend he was Hannibal the Cannibal is beyond me. He seems more tired and embarrassed than anything else. Maybe his mom needed an operation or something, I don't know!

Also, this movie will go down in history as the film that brought back the indestructible duo of Udo Kier and Stephen Dorff for the first time since Blade and The Last Minute. Of course if this is a Team up you're insisting on, I'm sure you're also demanding a Tom and Roseanne reunification!

To top it all off, speed also seems to have been a villain in the editing room. The film feels almost taped together by angry baboons on Quaaludes! There's more solid editing in Police Academy 7! Look, again, I lay this more on the seven producers and the two writers than anything else, but when Terry finds something out in one scene and then in the next scene she has yet to find that clue, you have to ask how the hell editor Alan Strachan didn't put up more of a fight! There even appear to be multiple web sites, only one of which is FeardotCom.com, and none of which is actually Fear.com. I'll be darned if that was readily apparent though!

This "film" also makes the shovel-brained assumption that people are obsessed with watching murder, or are so obsessed with their own mortality that watching innocent women get murdered is just natural. This assumption makes about as much sense as the fact that Rosie O'Donnell is now a "Media Mogul!" The draw is apparently strong enough for us to see fully how remarkably stupid the characters are. When one promises he or she will not watch the video tape... oh, I mean view the web site, it's a sure bet that even though they know it will kill them, they're going to do so... not just for the investigation but to get to see all the human wreckage and agony found therein! There are multiple frank depictions of human depravity and dismemberment, not to mention autopsies performed on the living! It's a cynical and (unless I'm the odd man out) inaccurate conceit concerning the Human Race. The depictions are realistic enough to make one cringe more than, say Hellraiser II!

This brings me to the one thing they not only spent money on here, but actually got right: The Visual Effects! Like Planet of the Apes before it, FeardotCom has amazing special effects and effectively creepy camera work. It's not always edited together well, but it's pretty amazing, if disturbing. There is at least one scene that is actually, no joke, just beautiful! I was impressed. It's just too bad that they couldn't have spread this all around a little to use their potential for a less derivative script and more time to get things right, man! Still, it can be awful purdy!

Look, man, I know that it's just common Hollywood practice to make the same movie over and over to compete with different studios! Antz and A Bug's Life; Deep Impact and Armageddon; Babe and Gordy; Best in Show and Kill Bill, but I can't believe that such a carbon copy actually made it to the screen in the same year! Look if this was a college film then Rutgers would have everyone involved expelled!

If nothing else, FeardotCom has made me appreciate Stephen Dorff more. I mean, look, it's a credit to his abilities that with a script that was such a mess that even Stephen Rea and Jeffrey Combs ended up looking silly, Dorff still did okay. Is he Peter Fucking O'Toole? Maybe not, but he's also not some other kind of tool! I might have to check out Blade again to see if I have maybe a new appreciation for Dorff's Glampire in that thing. Still, one surprise actor and one beautiful (two second) moment do not a great film make. Two Stars for FeardotCom! It's bad, and it's the biggest rip off since Huggies started outselling Pampers, but it's the kind of really bad rip off that makes you really feel crunchy for the poor actors and crew who gave this their best shot. Dorff, you deserve better (and I say that for the first time)! Moshe Diamant and Josephine Coyle you owe me an apology along with everyone involved in this film and The Ring, and Ringu, and the Korean remake called Ring, and all the sequels to all of those movies, and to all the people who bought tickets, and to Stephen Dorff's mom, and to my mom! And that's not the last time I'll be saying that! Argh! It hath made me mad!
See you in the next reel, asshole!