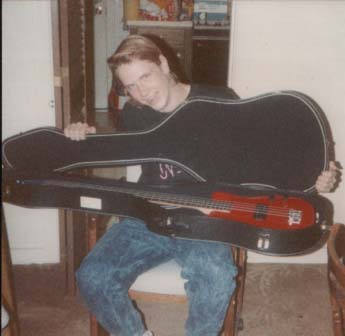 J.C. Mašek III
The World's Greatest Critic!

---
Before I begin reviewing one of the best tickets out there, I have a little something-something to say. Back when I was growing up in the late 1980's I was one of those long-haired, black t-shirted headbanger kids who not only wore the concert insignia of such current bands as Poison, Kiss and Metallica, but also that of such classic bands as John Lennon, Pink Floyd and Led Zeppelin. I now realize how ridiculous I must have looked in my attempt to link myself with Rock History!

This realization hit me as my daughter and I sat in waiting of the Great, Great Peter Frampton just next to the St. Angela Merici school in Brea, California. A figurative militia of seventeen year olds without shampoo evidence of any kind strutted past us, chests filled with air to best display their T-Shirt Logos of Slayer, Anthrax and, yeah, Led Zeppelin. Look, it's cool that you like music recorded before you were born, but you're not fooling anyone! Now, my 29 year old self has to devote his attention to the review of the Peter Frampton Concert! (Don't swallow that too quickly! Saaaaaaaaaaaaaaaaaaaaaaaaaaaaavor that Irony like a Cherry Losenge!)

I've never been much for Cover Bands. Certainly Cover Bands that remake a wide variety of great songs are more palatable than those that ape one band from curtain to curtain and try to make you believe they are the McCoy! When the three-person band Fallout took the stage, I was somewhat saddened by the obviousness of the Police-homage. Then something shocking happened. Fallout started to rock!

With his bleached and spiked hair and muscle-shirt, bassist and vocalist David Rasner looked to me like he was working hard on imitating Sting. He was. However, unlike going to see Strutter or FabFour, seeing Rasner in front of Fallout actually reminds one deeply of Sting himself. Rasner's voice evokes the best of the late '70's Sting with maybe a little Peter Gabriel tossed in to mix the Salad. As time progressed, Rasner with Mike Nieland (drumming for Stewart Copeland) and Pat Cherry (strumming for Andy Summers) won the crowd over and had everyone doing the eeeeeeeeeee-oooooooooooooooos and the Doo-Doo-Doos along with them! How? The music was perfect, that's how!

Each song sounded like The Police, and each song sounded fresh as it did when the brit-pop-punk-reggae trio belted it out. (Hell, they sound more like the Police than "Garage Groove Inc." sounds like Queens of the Stone Age!) I was as surprised as you must be, but when my personal favorite Police Song "Synchronicity II" was perfectly nailed by Fallout, it would've been a humiliating kick in the crotch to deny the skills herein! Best of all, Fallout didn't simply pretend that they were the Police and mimic their studio albums in a repeat you could do without. Fallout got the crowd into the music, and experimented a little bit with the bridges and choruses to keep this fun and fresh! At two points they even brought up female backup singers to round out the sound! Is Fallout as good as seeing the Police live? Well, lets not forget, they are a "Tribute Band" with all the baggage that such a name carries, however, you can tell that they really love what they're doing and are good at it (Rasner even has Sting's hopping dance down pat)! I can say this honestly: Fallout is the next best thing to seeing the Police Live, and by that respect they're very worth seeing! Bravo! (Click here to visit the Fallout Web Site!) YYYY

As a music critic one of the hardest things to try to do is review a Peter Frampton Concert. Let's face it... there's no dearth of Frampton live albums out there (starting with Humble Pie's Performance, Rocking the Fillmore and stretching all the way to 2000's "Live in Detroit")! Not only does Frampton have the best selling live album of all time (the incomparable Frampton Comes Alive) but I myself have already seen him twice prior to this night!

How was the third time? Even with so much to compare it to... incredible! Peter Frampton takes the stage with an energy that belies the fact that Frampton Comes Alive debuted in 1976! His voice is crystal clear and his guitar playing is faster and more energetic than ever. He also is a great experimenter with his own material making each show sound different even with similar play lists.

The best thing about Peter live is that he's not only a consummate entertainer, not only a great guitarist of the finest shade and not just a great singer with the history to back him up, he also really seems to love what he's doing and love being on stage. His million-dollar smile and energetic set gave the music an extra life that isn't commonly seen anymore. This is no prepackaged live set, but real rock and roll of the finest kind.

At this point, if Peter Frampton performed live without "Show me the Way", "Baby, I Love Your Way", and "Do you Feel like I Do" in the set the audience would likely revolt and take some hostages. Naturally, in the interest of public satisfaction and safety, those three mainstays are included, but again, with more Audience Participation than your average showing of The Rocky Horror Picture Show, and more energy than the average light-socket French Kiss! He's been playing these songs for Thirty Years, yet they sound brand new.

The noteworthy additions to the play list include a shockingly great rendition of the Great, Great George Harrison's "While My Guitar Gently Weeps". Who else could even do that Justice? Concert Staple "Off the Hook" provided some needed instrumental hard rock and some of the classic studio tracks (that have somehow sounded oh-so-much better far from the studio) really captivated the audience, including my Fourteen year old Daughter! It's one thing to "like" Peter Frampton, but it only takes one time seeing him live to make every individual in the crowd life-long fans!

"Lines on my Face", "Lying" and "(I'll Give You) Money" have never sounded so good. Frampton's efforts to keep the "Fourth Wall" (that being us... his family and friends) as his background singers have never failed, either. And, of course, he still uses the signature "Frampton Talk Box" along with his signature Black Les Paul to amuse and entertain the audience. His dual role as Rocker and Comedian consistently satisfies as he cracks on the audience and offers a self-deprecating humor surrounding his age and hair (amongst other things). Folks, he sounds great, and he looks great! He doesn't look a lot like Peter Frampton anymore, but he looks great.

What about the band? The good news is... John Regan (even at a Catholic School event described as the "Balls of the Band") was able to make it. The bad news is... Bob Mayo wasn't. The death of "Bob Mayo on the Keyboards, Bob Mayo" was hard felt at the time, and is equally hard felt with Frampton on stage without him. While the band was great on many levels, it should be noted that it took two new band members to replace just Bob's versatile Piano and Guitar. Peter's acoustic tribute to Mayo was the one solemn moment of the show, and showcased just one of the good songs on Frampton's new album "Now". Also notable is the apparent deletion of concert staple "I Don't Need No Doctor", on which Frampton used to share lead vocals with the late Steve Marriott, and later with the late Bob Mayo. If the song's gone for good, it's got a great history with Peter and his two most notable collaborators!

It should also be said that Peter continues to infuse Jazz and Blues into his guitar playing making me wonder what he's got in his MP3 player right this minute! He's still something else when it comes to smooth ballads and mid-tempo tunes, and he's still incredible with the hard-rocking (almost metal numbers), but he's also still willing to throw in some unexpected influences making his performance of such songs as "Do You Feel Like We Do" sound different on 6/4/04 than on 6/4/75 or on 6/4/00! Peter's still the greatest! YYYY1/2

A surprising opening act and one of the best live performers on the top of his game combined to make this a great night worthy of Four and one half stars out of Five! Tonight has taught me that there is at lest one tribute band out there worth their salt... and one classic rock performer that not only has earned the mantle of "Classic" but has re-defined it and taken it for his own. When you had Grannies, fat pushing-30 rock critics and cute 14 year olds all chanting the same thing, there was (and is) no question: Frampton is Alive!