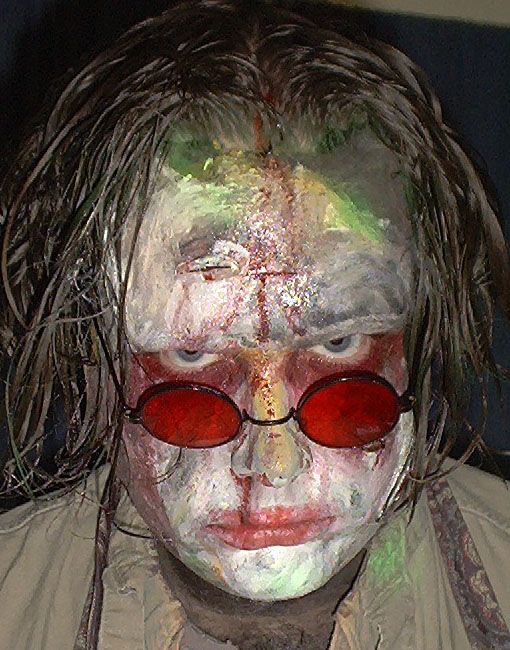 J.C. Mašek III
The World's Greatest Critic!

---
---
---
---
Once upon a star there was a thing in Television called "Pacing" in which a story idea would gel over time, and the individual episodes would take their time revealing what they were up to rather than stuffing everything into the first shot or two, creating a bubble-headed opener and a tapering off of great ideas. Shows like Farscape and Wonder Falls paced themselves well, but then, they both got cancelled didn't they?

In fact so many shows are so afraid of getting prematurely yanked from the schedule that they tiptoe around a certain formula like Bugs Bunny hiding from Elmer Fudd and they end up putting all of the surprises and good ideas in the first episode or two of the series. You'd think that Made-For-Cable shows would be exempt from this, because on cable short seasons are usually purchased and placed before filming even begins. But Showtime's otherwise brilliant Huff is a prime example of the everything-right-away formula we're used to seeing from the networks. Perhaps Showtime is still so playing Pepsi to HBO's Coke that they're willing to beg you not to change the channel... perhaps they simply had way too many things to set up before the season-proper began. Perhaps I've simply watched way too much television to ever be even vaguely objective anymore.

Be that as it may, Huff is a great idea with a great cast, and about a season's worth of events all crammed into one single episode, so packed in it might just rip at the seams. In short... Damned good, but can you keep this up?

Hank Azaria deserves a show like this to prove his versatility (sure he's more versatile on The Simpsons, but you never actually see the guy). Azaria is fine as psychiatrist Doctor Craig Huffstodt. He's one of those smart and ethical, yet sardonic characters that Azaria excels at, but he's more than a few feet deep in the layers category, meaning, what you see with Huff isn't always what you get. Huff surrounds himself with his patients, friends like Oliver Platt's Smarmy Lawyer Russell, as well as strangers who may or may not even be real.

Paget Brewster (from another axed-too-soon show Andy Richter Controls the Universe) plays Huff's fine-at-forty wife Beth who is in a constant diplomatic cold war with Huff's live-in mother Izzy (Blythe Danner), while Anton Yelchin is paying his dues as Huff's kid Byrd. All of them have their own problems, and all of them need Huff, but Huff's recently(?) become neurotic and confused (rightly so) and is about as stable as Long John Silver's leg after a termite conquest.

The shifting of tone is both an asset and a liability to Huff. Writer Bob Lowry's script is interpreted wonderfully by director Scott Winant, and the seamless transition from scene to scene and from mood to mood brings a depth and richness to the show. On the other hand, it can be annoying to deal with quirky fantasy sequences before being slammed back into Huff's reality.

There is also a bit of an unfixed nature to the feel of the show. While the advertisements, featuring a nude Azaria hiding behind a briefcase while being oggled by the cast on the street, imply a screw-ball comedy, until you look into the horrified eyes of the title character! "Screwball" this is anything but. And that layered approach is a lot like the way the show comes off. It can be uproariously funny and it can be frighteningly scary in its constantly changing storyline. Sure it takes skill to balance these divergent elements, especially when maintaining a marginal real-life feel, but it can also be maddening for the audience when they can't tell what's what and when.

The main detriment here is the over-stuffing of the plot with way too much story and way too much to keep up with before the inevitable cliffhanger. The acting and directing are very good, and the dialogue is too, but like far too many shows these days, Huff shows its cards a lot too early, making me wonder what trump cards it could possibly have up their sleeves still.

Three and One Half Stars out of Five for the pilot episode of Huff. It's a good show, for sure, and it shows that there are good Cable shows outside of the venerable HBO, but it also feels like it's on Showtime just for the sake of the fucking "F-Word" and that shitty "S-Word". At once, Huff gives the feel of a show that has places to go, but it also feels like a great deal of the "Heavy Lifting" is done in the Pilot Episode. Does it have the power to hang on? Time will tell! Only one thing about Huff is one hundred percent certain... Showtime's tired of all the Emmys making dust rings on HBO's shelf, and By God Showtime wants their own golden statues! Either way, until that happens, I'll see you, loyal reader, in the next reel!