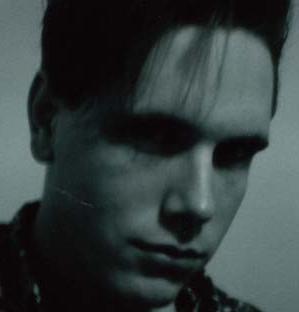 J.C. Mašek III
The World's Greatest Critic!

The year was 1999, and my lovely wife acquired Platinum Passes to the 20th Anniversary Long Beach Blues Festival complete with free booze and food. I really didn't find such inclusions lacking, but what was lacking was my buddy Mike. My buddy Mike is one of the biggest blues fans I've ever known, and it'd've been a hell of a treat to bring him to one of these, boozing it up, Bluesing it down and overall digging on what ol' Mike used to refer to as "Dem Blooze!"

Now, in 2004, the Twenty-Fifth Annual Long Beach Blues festival has graced us with its presence, and old Nomad Mike has settled in Pasadena, California, so baby, Dem Blooze are gonna get heard. Of course el problemmo with heading to a festival where the beer flows like... wine... with one of your all time best drinking buddies is that... well, you focus a little more on the Booze than the Blooze! The Long Beach Blues Festival, Day Two took place on Sunday, September 5... and I'm just now writing this on Wednesday, September 8. Why? I just got over my hangover.

The day was hotter than Shakira's pants and more humid than a Louisiana Swamp in August. Mike's freshly Armor-Alled Mustang was a solar probe through Orange County as we stabbed westward toward Cal State Long Beach. Like a fool born this minute I was wearing long sleeves, imagining the temperate, almost nippy, feel of last year's show. The horizon was a burning Yellow Glow except for the air-ripples of roiling heat radiating from the pavement like a memory sequence in a z-grade Soap Opera! In short, the whole shebang was more Tattooine than Long Beach and there I was dressed like Eric Cartman.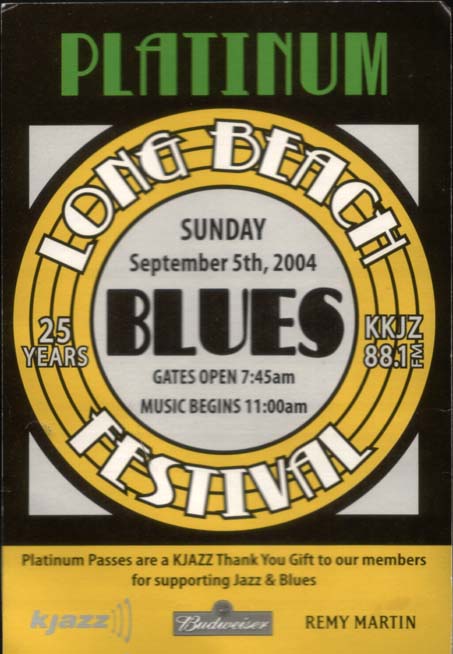 But was the Music Cool? Cooler than a Beach Wind (especially when I picked up an officially licensed LBBF short sleeved shirt). And leading the cool was one of the inheritors of the great Delta Blues Tradition, Alabama's own Clarence Carter! There are many schools of the blues out there from the almost "Negro-Spiritual" Gospel chants to the world-influenced, and just about anything else. But then there's the natural evolution of the old school (a term that actually means something in this case). Carter is this last category, the straight up, sweet Blues from a singer/ guitar player in wide glasses and a stylin' suit. But, image is nothing, Blues is Blood! Carter sounds better than ever from his faithful rendition of the great Elmore James' "One Way Out" to the overtly sexual and funny "Strokin'"! Hell, maybe Clarence Carter has the Blues, but he looked like he was having as much fun as the audience was with his toothy smile and swinging guitar neck. King! YYYY

I'd like to tell you that the intermission gave Mike and I the opportunity to go get another beer... but the truth is we didn't wait for the intermission... and it wasn't a single beer. As Gene Simmons once said... two fisted till the very end! But to be honest with you, yeah, we got more beer during the intermission too. And then some more when Stately Solomon Burke took the stage. Solomon is a Big man, so big that he remained seated throughout most of his notable performance. He also has a big, big voice that moved around enough for the rest of him. This Grammy-winning soul singer evokes memories of the best in Gospel Blues, the kind that Al-Green-Al-Green would relate to more than old Muddy Waters might. In his loud, blue Sequined vest and Vegas-styled Funky Orchestra, Burke would be more suited to a flashy indoor show than the desert sunlight that yellowed all of Long Beach that day, and it's true, he might be better suited at a Revival or a Gospel Review than sharing a stage with Buddy Guy. Still, Solomon Burke does what he does at his spiritual best and he's definitely worth the sight and sound! YYY1/2

After enough beer to fill a tanker truck, I was ready for anything, and Mike was fighting for Consciousness. Gravity seemed to be a harsh mistress as the next show began to start. With a name like Little Milton I rather expected someone of the size and hue of a Smurf. This made sense because this was a Blues

show after all, and, of course, I was drunk, so a whole lot of things were making sense to me then (we'll talk about my new idea for Tequila coming in Catsup Packs later). Anyway, that wasn't the case. Milton Campbell isn't that "Little", and he isn't that young. However, like last year's performance by Pinetop Perkins, Little Milton proved that age ain't nothin' but a number. As I recovered from my Hangover, Campbell turned seventy, but he played guitar like a blues man half that age... but with the experience to back up the Jam! Like Carter before him, Little Milton gave us some of that classic Delta Blues that would make Robert Johnson and Willie Brown smile. His electric set covered both his relative hits and some surprising extras.

If you were ever wondering what Fred from Scooby Doo would look like all grown up, look no further than Little Milton's guest Dave Alvin. With his blue pants, blonde hair, white shirt and red scarf(!) this guy (front-man from the previous day's headliners The Blasters) would have looked at home surrounded by middle-aged Shaggy, Velma and Daphne! He backed up Little Milton like a Pro, though, and sounded fantastic taking the bluesy front too. Still, as good as Alvin was on guitar and vocals, he might have been better off sharing a stage with George Thorogood or The Fabulous Thunderbirds than Little Milton. They made a good pair, and worked well together, but it made for an unlikely motley combination that worked almost in spite of itself. YYY1/2

About that point, beer and sun caused me to say Aloha to Gravity and Mike and I chose the most ideal spot we could, and had a kick-ass view of the stage. However, the truth is that we didn't choose that spot because of the stage, but because of its proximity to the row of port-o-johns just South of us. When Gravity seemed to morph into a Horizontal entity, we gripped the grass for all we were worth and checked out the next show by Leon Russell.

Looking for all the world like a genetic brew between the Winter Brothers, Gandalf and Santa Claus and sounding more like Willie Nelson (with whom he cut an award-winning album) than Willie Dixon, Leon Russell isn't an immediate choice for Blues Archetype. He works his true roots, though in a Southern-Rock inspired Blues that would make Duane Allman proud. Russell started as a side man, working with a veritable "Who's Who" of the rock and country world until he broke out on his own. He did, in fact, use that voice of his to the best of his front-man ability, but he also knew when to simply sit coolly behind his piano and play on the side while his considerable band led the way. From the most rip-roaring to the smoothest and quietest of the piano-oriented ballads, Leon's smooth breaking voice was accompanied by two great looking female vocalists he identified (facetious or not) as his "Daughters". When one of the two daughters closed the show with a rich vocal lead, the proof was in the pudding that Russell had learned that a band is the sum of its parts. He's a hell of a leader, and with his band, he gives a hell of a show! YYYY

The Anheuser-Busch, St. Louis, Missouri, corporation had done quite a number on willing Mike and I, and we chose to get the best possible front row standing room for the headliner as we could, rather than storming the Bar at Normandy again. In that the headliner was none other than the great, great Buddy Guy, this proved to be a brilliant plan on our part. Buddy's band performed their own sound check (see also Joan Jett's show), and the Bass Player drove the test like a nail through a wall. The man slapped and rhythmed his way through the Drum Check, Guitar Check, Piano Check, and (the unfortunately annoying) Mic Check.

By this time it had cooled off slightly, which is a relative term because Mister Sun was still cooking us enough that we could have made our own Gravy, especially with our Budweiser Marinade! When Buddy Guy took the stage with his Trade Mark Polka Dot Fender Strat he was already sporting a perspiration patina. But he was also sporting that Trade Mark Buddy Guy Grin, which made it okay.

Buddy Guy is the great showman of the day, getting his crowd into the singing, especially on "Feels like Rain". God Bless the child who didn't sing along, because Buddy Guy was also the great Attention Deficit Disorder victim of the day. Should he not like an Audience Response he might alternately accuse us all of not loving the Blues, threaten to leave the stage, or (most often) simply dive with little warning into a completely different song. It's a credit to his talented band that they could keep up with so many changes, particularly when Guy free-styled so much of his show. The show was his though, and it was all about one man loving the Blues, and grabbing as many followers in his almost sexual appreciation of the electrified Chicago Blues music he's ruled since Muddy Waters passed on.

The show was totally random for sure, but it was the random that makes you appreciate an artist's insides. When Buddy finally did make good on his promise to leave the stage he did so by playing his cordless Stratocaster all the way into the crowd, meeting people and singing to them before returning to the stage for "Damn Right I Got the Blues". The crowd (including myself) yapped like hungry puppies in the Long Beach Summer begging for Blue Scraps as Guy alternately screamed and whispered his favorite songs. Most often he showed that it wasn't just hot outside as he vocally sexed up the ladies in the audience with an almost Curtis Mayfield crescendo coupled with his habit of chewing on an "MMM MMM MMM", moving his jaw about as if savoring a blue delicacy.

No Blues Festival would be complete without somebody covering Robert Johnson's "Sweet Home Chicago", but it was a surprise that this somebody was Buddy. His screamed, sang and whispered electric rendition was as much Aerosmith as Johnson. It's also one of the best live versions of a standard that has long since bordered on Public Domain in its versatility.

Buddy didn't want to leave, cursing the Long Beach Curfew, but he wrung from us our slow leave after a near-medley of songs inter-cut by Buddy Guy's rapidly changing mind. It was all in good fun though, as Guy just wants to... play the Bloooooooooooze! And that he did. He's a precious surviving stalwart of the classic Blues, and he's not to be missed. YYYY1/2

Langston Hughes would have been proud, and Mike Owen and I sure as hell were. More than Seven hours of what my buddy still has a tendency to call "Dem Blooze" was almost not enough. The battle of the Hangover began then, but the rhythmic head throb reminded me of the walking Boogie Bass Line providing that Bluesy ambience that I'm needing. By that night, however, the Blues I concerned myself with coated the West Side of the Tylenol P.M. I treated myself with. Four Cumulative Stars out of Five for Day Two of the 25th annual Long Beach Blues Festival. Nobody does it better! No... Buddy does it better!

Don't forget to drink your Water, folks... see you in the Next Reel!