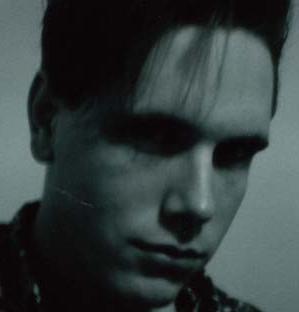 J.C. Mašek III
The World's Greatest Critic!

---
---
---
---
---
---
---
---
---
To say the absolute VERY least, I'm a man of many passions. One look at the diversity of the positive and negative reviews on this site will give a rich listing of not just likes, but passionate loves. My music reviews are no exception to the rule. When I've been asked what the best concert I'd ever been to was, the most common answer was my turn of the century exposure to one of my all time favorite bands, The Sisters of Mercy. I had been quite literally a fanatic of the gloom-goth-industrial band (and its only constant member Andrew Eldritch) since I was sixteen, when a good friend first played me their music saying "I don't really know what kind of music you'd call this, but I like it!" My life changed, and I vowed that I could have listened to this band... JUST this band forever. I actually considered using my own clear baritone voice to pay tribute from city to city until the day I went bald (which has yet to happen). In many ways, that day, the day I first heard The Sisters of Mercy, was the day that the 1990's really began for me. I'll never forget that day. January 1st, 1990.

The first time my wife and I saw them (him?) at the Grove Theatre in Anaheim, California, the show immediately became the best show we'd ever seen bar none! This includes the point at which the fire alarm went off (unheard over the music) the houselights went up and the Laser and Smoke show was made ineffective (Quoth the Eldritch: "This place is getting WEIRDER!"). I remember describing it as "like being inside dream". Not "Dreams", not "a Dream", but "DREAM", the Platonic, iconic, ideal form, not the cave shadows most other concerts had faded into in one fell blow.

Yes, I realize I'm the king of humorous hyperbole... Here, I mean it. It was like this perfect orchestration of light, dry ice and incredible thundering music became the doorway through which Andrew Edlrich had pulled us into another dimension (and no, I haven't done Acid in a hell of a long time)! As I said, considering the house lights broke the "Illusion", the perfection had little to do with "image" (in fact, the notoriously black-clad frontman was in jeans, tennis shoes, a white long sleeve shirt, bleached hair and what appeared to be an orange afghan tied about his waist... the midnight sunglasses were there, though.)

Might I say this was an incredibly hard act to follow? Considering that if I had a review for this, we'd be looking at six or seven stars out of five, I'd say rightly so! I'd also say that Andrew Eldritch is not only a hard act for other acts to follow, but also for himself to follow. When a show is this incredible, the next one has a high water mark to, if you will, FLOOD!

As I stood in line at the House of Blues in the House of Mouse using my BlackBerry to email a director friend of mine a friendly discussion on the comparative merits of Hal Hartley versus Wim Wenders, I savored the irony of having become a pretentious yuppie Goth, these twenty (or so) years after the first "Merciful Release". That is until I looked up and saw that two thirds of the black-clad, pierced and mascaraed men around me were typing on similar devices and discussing the comparative memory of the BlackBerry to the Trio to the Palm to the... The... The mighty have fallen, or at least sold out!

After being frisked so thoroughly I immediately demanded dinner, a movie and a pregnancy test (he said he'd call), my party and I perched in the very seats behind the seats behind the best seats in the house (please note that this was the House of Blues, Anaheim, so even those seats sucked ear). However, with the proper contortionist's skills and the use of the mini-version of a JumboTron, we could see (and most CERTAINLY hear) opening act The Warlocks.

The Warlocks were quite possibly the perfect band to open for The Sisters of Mercy, as they had that distant gloomy, dark theme which most certainly was able to get the crowd warmed up for what was to come, however, there was no way The Warlocks could outshine their headliner. That's not to say they were bad, but perhaps they were a little heavier on the image than the music. Each song started on a different (but unmistakably similar) three chord driving progression in virtually the same tempo as the one before it. Overlaid were some very interesting thrashing guitars (used to somewhat sparing effect) in a fiery fusion of Radiohead and The Cure. The singer's far-off, cacophonous, if not echoing vocals added a fine touch to the overall bleak moodscape. Quite often this deliberate gothic throwback evoked memories of The Southern Death Cult, Joy Division, Bauhaus and just a bit of Siouxie and the Banshees (specifically surrounding that band's slicing cover of The Beatles' "Dear Prudence"). Other times they seemed determined to look and sound like an edgy, resurrected "Echo and the Bunnymen" with their silhouetted posturing and slow Cure-like swaying to the music. Their use of Dry Ice effects and a strobe-light that could bankrupt Southern California Edison added to this attempt at the surreal.

While The Warlocks were certainly good enough, a lot of their energy was directed specifically at being "bad ass". The singer's statement of "No offense but I fucking hate this town. Fuck you, man!" led my daughter (herself an edgy teenager) to quip sarcastically that they needed their mouths washed out with soap (considering who they were opening for, you gotta get the joke), and their use of echo-pedals, feedback and static-distorted guitar abuse (even to the point of slashing the fretboard against an amp to get all the sounds at once) helped this obvious intention take form. It just didn't all work in a convincing way. They'd have been better served to accentuate their good songs and improve (or diversify) their filler.

The Warlocks also have the unique distinction of having two drummers (especially noteworthy as The Sisters of Mercy don't have one at all... more later). The thing of it is that there was no real musical justification for having two drummers. Neither drummer sucked and no measure of the performance really lent itself to multiple drum lines. In almost every case the percussion was a mirror image of the percussion, rhythmically keeping time with itself on two sides of the stage. Such synchronization is in and of itself at least a little noteworthy, but more from an academic than a musical sense. I'm guessing that either these guys are both best friends with the bass-player-chick, or The Warlocks are looking for a double drum sound, much like many seventies rock bands went for a double guitar offensive. It's certainly a point of separation to have a post-punk-goth band with a double thunder approach, considering all, but I can promise you, if I hadn't seen them (and I barely could, considering all), I wouldn't have had any reason to believe there were two drummers up there.

Again, not a bad band, and if they're around in five years, I imagine they'll have their "attempts" down as "successes". But as the singer so morosely informed us "I don't really give a shit if I fuck this up, either." 'nuff said!



Waiting for Edlrich and his "brothers" to take the stage (technically, the latest incarnation of Drum Machine "Doktor Avalanche", the invisible member, was already there) felt like waiting to open presents on Christmas. When this finally happened (and I'm pretty sure it took about three harvest seasons to take place), I again state that this was one of the best concerts I've ever been to. However, compared to last time, it wasn't quite up to the high set bar par! To be fair, the venue probably had something to do with this. The House of Blues' "No Seat is a Good Seat" policy was in full swing last night, in and of itself an advertisement to mortgage your parents' house to buy a VIP Pass (trust me, those seats aren't much to write Granny about). The alternative, of course, is to hit the floor (which has almost as much space as my living room) and hope you get a glimpse of the stage from around the pillars.
The sound and vision (what we got of it) was fantastic. Gone was Eldritch's orange throw-rug and white shirt. In fact, he appeared to be wearing a Hockey Shirt, emblazoned with the symbol of The United Federation of Planets (which explains a lot). Gone also was Eldritch's bleached-blonde coif. That's not to say he's grown back his trademark black mane. I mean GONE IS THE COIF! Years ago, Suzanne and I expressed surprise that Eldritch would have bleached his hair, but we agreed, we'd go see him BALD. We now have fulfilled that promise. Yes, apparently Andrew has recently made damned good friends with Mr. Razor, and together with his sharp (and now thinner) midnight sun-shades he looks more like Spider Jerusalem than Ian Astbury. Because his new axe-men Chris May and Ben Christo look more like the Cyber-gang members from The Dark Knight Returns, I suppose this works well enough. He's still Andrew Eldritch, and he still looks great.
And he still sounds great. Eldritch has always been the great Maximalist. He refuses to strip his sound down to the bare essentials, and instead amplifies the backbones of his songs into sonic textures that could make Phil Spector blush. The Sisters' Wall of Sound is an Iron Curtain, best exemplified in the multi-faceted and variable "Dominion/ Mother Russia", which practically brought down the roof. However, Eldritch made this show as much about the new songs (he hasn't felt like releasing a new album yet, damn it) as it was about the classics. The new ones are no exception to this Wall rule, nor are they secondary to the overall greatness of the show (even though these were songs we couldn't sing along with). Most notably, especially to Suzanne, whose rabid fandom of the Sisters is one of the reasons I married her, was a new song actually called "Suzanne". It fits perfectly too.
By the time the band got around to leaping into "I Don't Exist When You Don't See Me", I was convinced that our intrepid deep voiced singer was trying hard NOT to exist. Invest in Dry Ice, folks, because I haven't seen this much smoke in one place since I started that Rastafarian band in College. Eldritch seemed to take his Pink Floyd influences (which run deep) to a far more blatant level, quite literally becoming "Obscured By Clouds". He used this to great effect, of course, emerging from the laser-warmed fog like Grendel from the Grotto with that thick, rich voice, alternating between operatic crescendos, growls and whispers. The decision to leave the TV Monitors off for this performance made me wonder idly if our boy was about to join the Witness Protection Program.
His Vision Thing number "Ribbons" proved the smart move of the fogbank, as his textually precise lyrics directed the floods to change the cloud from "Cobalt Red" to "Cobalt Blue" to "Purple Light", and so on. Later, when he granted us the live treat of "Something Fast" (the closest thing to a "Light Rock" song he's ever done) the gray envelope around him was illuminated in bright blood red as he sang "You can stand all night, at a red light anywhere in town..."
For a man who can make a whisper sound like a scream and a scream, a whisper, it was noteworthy to appreciate how he alternated between these two extremes (and every category in the twain). Often this was in contrast to his well-known album versions, keeping the audience on their toes, and bringing them to their feet. This experimental variance was peppered throughout both parts of "Flood", and turned the already shredding "Ribbons" into a suspenseful new experience.
Amid these twisted re-imaginings of the Merciful Releases, (still pure to the point that it felt like being welcomed back into a familiar and exclusive club), Andrew Eldritch treated us to some dead-on, and loyally recreated hard-driving Sisters staples as "Vision Thing", "Alice" and the finale "Temple of Love". The crowd demanded more (and yes, the crowd demanded "More", along with "Black Planet", "Detonation Boulevard", and several other great songs). However, there were a few numbers we all wanted but didn't get (the man has been playing some of these for so damned long, I think he's entitled to mix the set list up once in a while to keep from ripping his hair out. Or... wait, is that what happened already?
There was, however, one song that we received that was perfect, and was arguably the most in-demand number of the night. I'm talking about the slightly reworked "Lucretia My Reflection". Epic novels have been written about lesser events. Cults have formed around smaller happenings. Eldritch's unmistakably rich baritone rose above the driving Baseline to deliver cresting tones that crashed into his practiced echoing hiss. May tastefully overlaid his guitar an octave higher than the pounding mix, throwing in some of the "new" industrial flurries we heard that night, without tainting the core of the song that made it a favorite.
The sound mix could have used a little bit of tweaking for the sake of balance, especially considering the fact that the man who personifies this band is such a perfectionist. Further, there was a time or two when the low and rumbling subdued vocals were drowned out by the music, and once or twice when the loud, orchestral vocals felt as if they were almost breaking under a strain. Overall they sounded excellent, and the few flaws aren't really those of the band. But comparing this show to the impossibly excellent first time we had seen them, this one comes in second place. This is an odd thing to say, to be sure, as comparing this show to virtually any other band, The Sisters of Mercy bend their competitors over one knee and administer unto them a dark and Gothic spankee. However, comparing Sisters to Sisters, there was a tiny threshold still available for improvement. No other band can match them, but they can compete with themselves more than fairly.




1/2
The Sisters of Mercy (Andrew Eldritch specifically) offer up one of the best stage presences in the world. This transcends mere "image", however, and instead shows a perfect theatrical blend of light, precise sound and special effects, coupled by three men (and a robotic arcade) who command the stage, and your attention. Eldritch may be having the time of his life, or may be completely miserable and we'd never know. What we do know is that he's incredible at what he does, now, then, and hopefully for years to come! For both bands together, this evening nabs Four Stars out of Five. It was all I could do last time not to sell everything and start a Sisters of Mercy cover band. Now, at the very least I'm playing all the albums in succession without pause, and practically begging for the new one Andrew's been promising for far too long now. With three stars for The Warlocks (one of whom was technically a witch instead), and Four and One Half Stars for the Sisters of Mercy, this was, all told, an incredible night. However, it's a good thing I'm not also reviewing the House itself. But hey, I'd go see Andrew Eldritch play in a Broom Closet, kids. Ack! I probably shouldn't have said that. Last time we accidentally predicted seeing him bald and it came true... okay... uh... "I'd go see Andrew Edlrich play Twenty Consecutive nights at Madison Square Garden to millions of enthralled fans..." Yeah! And, uh... my first novel... nevermind. See you in the next reel!