Two years have gone by since I created the original Dead Man of the Year awards. The first year had a clear front runner. It was hard to ignore the 800 ton Gorilla in the room back in 2005. Still the award went to Obie O'Brien, which perhaps would not have been the first name that sprang to mind when King Kong was mentioned. 2006 was even easier, as the influences of Jerry Siegel and Joe Shuster were everywhere that year. The biggest movies of the year were super-related, we saw the release of just about all the remaining Superman properties onto DVD (including Supergirl), we saw a new version of Superman II and we saw a new film in Superman Returns, a farcical take in My Super Ex-Girlfriend and even a bio-pic in Hollywoodland.

The end of 2007 is now upon us. Our frontrunner? This year isn't so easy. We have neither a man of steel in a big, red cape, nor a reel-to-reel, skyscraper-sized Ape. This year would require a lot of depth. Depth is what we find in this year's awardee.

The day Phil Hartman died was about two and a half weeks prior to my wedding day. I was standing in my soon-to-be in-laws' Dining Room when the story broke on Cable News. I spun around and sunk, literally into a chair and figuratively in my mood. The first thought I had was what a waste this was. What a terrible waste. Shortly after this, a good friend called me to see if I knew. His exact words were that "Lionel Hutz and Troy McClure died on the same day!"

That was the beauty of Phil Hartman. The man was so very good at his craft that he rarely was thought of as an individual to his fans. Instead, the name "Phil Hartman" seemed to apply to a branding over a large group of characters, some very similar to each other, some as different as Cirroc was from Captain Carl. But there was so much more to Phil Hartman than merely his comedy, or even his acting on the whole. Hartman lent his distinctive voice and acting style to a great many films and television programs, both animated and live action, stage shows and even television commercials. He was also an accomplished graphic artist, who was far from struggling. Well before his name became recognizable to comedy fans, he was designing album covers for bands like America, Poco and Fireside Theatre and the distinctive C-over-S-over-N braided logo for Crosby Stills and Nash was all Phil. He was also a devoted dad who talked openly about how he enjoyed seeing his kids enjoy his work, especially on The Simpsons!

The man we came to know as the best impressionist for such American Icons as Ronald Reagan, Ed McMahon, Frank Sinatra, Bill Clinton, Barbara Bush and Charlton Heston was born in Brantford, Ontario, Canada as Philip Edward Hartmann on September 24th of 1948. He was one of eight children (five girls and three boys) born to Rupert and Doris Hartmann! Philip was nine years old when his parents moved the family to Connecticut and finally Southern California.

At the age of 27, Hartmann joined the Los Angeles Based Comedy troupe called The Groundlings, around a year after its formation. It was there that he met another young comedian who had appeared on The Gong Show a few times. His name was Paul Reubens and the two became fast friends and collaborators. Phil was instrumental in some of Reubens' early work, even co-creating Reubens' most famous character Pee-Wee Herman. Another of his pals in The Groundlings was Jon Lovitz, with whom Phil would later work on Saturday Night Live.

Although Phil Hartmann's major (at Cal State Northridge) was Graphic Design (a field he had some noteworthy successes in), it was his voice that gained him his foothold in the entertainment business. His first screen credit was doing "additional voices" for the TV Series Scooby-Doo and Scrappy-Doo in 1979. This was followed by the short-lived 1980 television program The Six O'Clock Follies, on which Hartmann worked with Laurence Fishburne and Bill Paxton. Also in 1980 he narrated the comedy/ animation/ documentary Skateboard Madness, he had an appearance (as Man at Airport with Gun) in The Gong Show Movie (without Reubens, by the way) and appeared in a blink-and-you'll-miss-him part in Cheech & Chong's Next Movie (in which Ruebens did appear as Pee-Wee).

The following year of 1981 was the first time Phil was really seen by a large audience doing what he would come to be known as an expert at: standing out in an ensemble cast. He appeared in Ruebens' adult-oriented The Pee-Wee Herman Show with The Groundlings as Monsieur LeCroc and Kap'n Karl (credited in the later versions of the show as "Captain Carl"). One of the stage performances was taped and aired on HBO, which re-ran it for years. The success and visibility of the show led to the release of the 1985 Warner Bros. film Pee-Wee's Big Adventure, directed first-time feature director Tim Burton, scored by Danny Elfman of Oingo-Boingo and written by Phil Hartman (who received top billing as screen writer) with Reubens and Michael Varhol. The film was a hit and still maintains a high critical acclaim and a loyal base of fans and though Gene Siskel derided the film upon its release, it's noteworthy that today RottenTomatoes.com lists Phil Hartman's first writing credit as having a rare "100% Fresh" rating. The film helped to launch the career of Tim Burton (already respected in some circles for Frankenweenie) and changed Elfman's career from cool lead singer to sought-after Hollywood Composer. It is especially worth mentioning that this was a great achievement for Hartman as a writer, much more than as a performer. Though he did appear in the film, it was in an almost-cameo role as a Reporter. The script shows Hartman's comedy skills were more than just visual.

Though Pee-Wee was the clear winner here, Hartman soon did something that Ruebens had not succeeded in doing: He made the cut and was cast in the ensemble of NBC's Saturday Night Live. Now known full time as "Phil Hartman" (having dropped the second N), our Dead Man of the Year helped an occasionally ailing show jump right back into some of its best seasons. His works on SNL (which spanned a full 8 seasons) are considered some of the most memorable and funniest in the show's history. Still, he did take time out to appear as "Captain Carl" in episodes of the first season of Pee-Wee's Playhouse!

Hartman played a wide range of characters on the show, often seamlessly melting into the ensemble and often taking center stage with his scene-stealing abilities. He also gave the impression of an actor who knew when to steal the show and when to leave the spotlight to someone else. This was a trait he had cultivated since he was very young, described by many as being a sweet, sensitive and caring child. He was just as likely to help a fellow writer or cast member to do well on the show as he was to ham it up for himself. Through 8 years of rotating cast members, Phil remained the steadfast stalwart and a man that viewers could always count on for a laugh. This earned him the nickname "the Glue" (a name rumored to have been given to him by Adam Sandler) for his ability to hold any cast together.

He was also one of the only actors in the series' run to successfully take over announcer duties for certain segments, even though "The Voice" himself, Don Pardo, was still the main announcer. Hartman's voice ranged from the bombastic game-show style to the skilled news anchor style to even the caring, sweet-natured narrator for SNL Commercial Spoofs. On screen he was hilarious as Cirroc, the Unfrozen Caveman Lawyer, the Frankenstein Monster (along with fellow diction-challenged characters like Kevin Nealon's Tarzan, John Lovitz' Tonto and later... Chris Farley as himself) and the dead-on impressions he did of Jack Nicholson, Burt Reynolds, Telly Savalas and more. Off screen he was the reliable voice that came in and out whether he was visually in a sketch or not. These are the elements of Phil Hartman the Entertainer that made him feel less like a "Star" than a reliable pal you would visit on Saturdays. You might not always see him, but you would always know he was there.

Saturday Night Live put Hartman on the map, partially due to his dead-on impressions of Bill Clinton. In 1994 he gave a teary departure to the Sketch Comedy show that had helped make him famous. But it was on another Sketch Comedy show that the germination of his most famous TV Family was being born. On April 19th, 1987 (not quite a full year after Phil's first show on SNL) The Simpsons debuted on Fox Television's The Tracey Ullman Show. Not long after, The Simpsons were given their own TV Show on Fox and Phil Hartman lent his vocal talents to the show for the first time in the middle of the Second Season.

In January of 1991 (a year and a month after the first episode), Simpsons fans met the inept, shyster attorney named Lionel Hutz, voiced by Phil Hartman. Three episodes later Hartman's voice again appeared as Troy McClure, the washed-up, has-been actor based on Troy Donahue and Doug McClure. Hartman lent his voice to many characters on the show (his audio appearances spanned nine seasons, one more than his appearances on Saturday Night Live). You may remember him from such episodes as "Marge vs. the Monorail" (where he played Lyle Lanley, the traveling Monorail Hawker) and "Brother from the Same Planet" (where he played Bart Simpson's Big Brother Tom). While every appearance was memorable, his best known characters remain Hutz and McClure. Only Hartman's distinctive voice and timing could make Lionel Hutz work as perfectly as he did. Who else could take a line from his I Can't Believe it's not a Law Firm's advertisement "WORKS ON CONTINGENCY NO MONEY DOWN" and twist it into "WORKS ON CONTINGENCY? NO, MONEY DOWN!" and make the line not merely "funny", but hilarious?

Troy McClure managed to outshine even Hutz, becoming the butt of many jokes (most self-inflicted) and appearing in some of the best episodes in the entire run of the show. The episode "A Fish Called Selma" features Troy as the main character attempting (unsuccessfully) to get his career back on track (with the dubious help of his absentee agent played by Jeff Goldblum). As the episode progresses, we see Troy appearing with Miss Piggy (in The Muppets Go Medieval), in the multi-million dollar stage musical Stop the Planet of the Apes, I want to get off! and finally, his pet project, The Contrabulous Fabtraption of Professor Horatio Huffnagel. The episode has some of the greatest lines the show has produced, many sung in the aforementioned musical numbers. Similar to Hartman's personality seeping over to announcer duties on SNL, Troy McClure actually became the host of two great episodes of The Simpsons, presenting both "The Simpsons 138th Episode Spectacular" and "The Simpsons Spin-Off Showcase"! Though never actually a "cast regular", Hartman's voice "appeared" in 53 episodes, spanning 9 seasons and 19 different characters on the show.

The Simpsons had long been discussed as a theatrical movie project. The writers and producers had considered for a theatrical release a script that became "Kamp Krusty". The second plan was for a live action Troy McClure film starring Hartman.

Although Hartman ws doing quite well playing a washed-up, has-been actor, his career was far from over. After Saturday Night Live, Hartman joined the cast of the sitcom NewsRadio, playing, what else, a voice announcer named Bill McNeal for a Radio Show. The arrogant and self-important McNeal was one of a series of characters that Hartman played (very well) against his own personality type. For an actor considered by many to be such a nice guy, he did portray a number of comedic heavies (though rarely, if ever, a villain). His Silver Screen credits included Frank, the jerky family man in Greedy (opposite Kirk Douglas and Michael J. Fox), Major Colin Thorn in Sgt. Bilko (opposite Steve Martin and Dan Aykroyd), gift-grabbing Ted Maltin in Jingle All the Way (opposite Arnold Schwarzenegger and Jake Lloyd) and even the nice guy Gary Young in Houseguest (opposite Sinbad). Let's not forget his final appearance in Small Soldiers, in which he played Phil Fimple, opposite Dennis Leary, Kirsten Dunst and Jay Mohr. Interestingly, the man with the versatile voice played only a live-action character in this film that featured such screen presences as Tommy Lee Jones, Frank Langella and Ernest Borgnine lending only their voices.

Just as Hartman was happy to play minor roles on The Simpsons and Saturday Night Live, his smaller roles in films were often the funniest. His performance as Vicky the Alcatraz guide in So I Married an Axe Murderer was a highlight in deadpan comedy. His cameo appearances in various TV Shows (like The John Larroquette Show, 3rd Rock from the Sun and The Dana Carvey Show) and video games (like The Simpsons: Virtual Springfield and Blasto) furthered his range as an actor and comedian. Some of his funniest work was even seen in commercials in-between shows (having had great training from his days on SNL). His Philips/ Magnavox CD-I Commercials (basically for a pre-DVD entertainment and gaming console) were memorable more for his performances (of up to six characters within 30 seconds) than they were for the product itself. He lent his unique talents to many a product endorsement somehow never seeming like a sell-out or making us want to change the channel during his commercials!

Hartman's style went far beyond just the characters he played, influencing a great many others as time went on. He has become a model for voice and comic actors and his diversity has become almost unsurprising in that he did so much and did it so well. At the time of his death Simpsons creator Matt Groening was developing a science fiction cartoon that became Futurama. A recurring character on the show called Zapp Brannigan was created to be a spoof on William Shatner-esque adventure characters, with Phil Hartman cast as the obvious choice for his voice.

Zapp Brannigan was never to be voiced by Phil Hartman, nor was the Troy McClure movie to become a reality. On May 28th, 1998, Phil's third wife (and the mother of his two children), Brynn Hartman fatally shot Phil while he slept. The murder was listed by the LAPD as being due to Domestic Discord. Reportedly the couple was divorcing because of, amongst other issues, her alcoholism and use of cocaine. Hours after the murder, Brynn turned the gun on herself and committed suicide.

Hartman's real friends were shocked. Some passed around blame, one (Steve Guttenberg) appealed to the late night comedians to leave this one out of the monologues. Brynn's brother Gregory Omdahl filed a wrongful death suit against Pfizer and Brynn's doctor Arthur Sorosky for the belief that her use of Zoloft contributed to the murder/ suicide. The Hartmans left behind one son and one daughter, later raised by Brynn's relatives. Phil and Brynn's bodies were cremated together and their ashes were released over Emerald Bay, off of Santa Catalina Island, just a few miles off shore from their home.

As for Hartman's larger family, a huge mark was left by Hartman on his fans. Due to his ability to play so many different characters, linked only peripherally by similar voices, many fans didn't even realize they were fans of his until the characters they loved vanished. The Simpsons retired his characters, never having another actor fill in for him. His last episode was "Bart the Mother", which featured Troy McClure. Dedicated to his memory, the episode aired on September 27th, 1998. The cast of NewsRadio held an episode dedicated to the passing of Bill McNeal as their way of saying goodbye to Phil Hartman. Though Hartman's friend John Lovitz joined the cast in his place, the series was cancelled soon after. Hartman was nominated for a Posthumous Emmy for portraying Bill.

Hartman's actual Emmy win came in 1989, not for his performances, but for his writing on the show Saturday Night Live. The co-creator of Pee-Wee Herman had once again showed that comedy wasn't just in his voice or face, but in his blood. In addition to his four Emmy nominations (including 1987's nom for writing SNL, 1994's nom for individual performance on SNL and 1998's posthumous nom for Supporting actor in a comedy), Hartman was honored in many ways both before and after his death. He was named "87th greatest television Icon of all time" by Entertainment Weekly and appears at the top of many lists of favorite SNL cast members, including lists made by SNL writers. Hartman proudly became an American Citizen in the early 1990s, but never forgot his native Canada. In response, Brantford, Ontario, Canada has never forgotten him, either. Brantford's Walk of Fame features a plaque commemorating Phil's life and memory. Toronto's Humber College's "Comedy: Writing & Performance program" has a Phil Hartman award given to noteworthy graduate students.

His 2007 influence is hard to measure, as Phil Hartman's ripple effects run far and wide. Philips CD-I was edged out by DVD players and Game Consoles like Playstation and Nintendo, of course, but the commercials are still great today (check them out on YouTube... you won't be sorry). The Simpsons and SNL are both syndicated internationally now, and Phil's voice are enjoyed on a daily basis. It's Phil's less obvious influence that has been felt in many ways this year. Although the Troy McClure movie was never to be, 2007 did finally mark the year that The Simpsons Movie was released into theatres to positive reception, especially at the box office. The film doesn't feature Hartman's characters, of course, but his presence was still felt in the impact he had on the actors and writers that made the show and the movie. There were some distinctively Hartman-esque moments in the film. This year also marked the triumphant return of Futurama after its (unofficial) cancellation in 2003. Bender's Big Score features the original voice actors and characters, including Zapp Brannigan, the character created for Hartman. Actor Billy West does Zapp's voice in his best Phil Hartman. West also voices the series' focal point, Fry. Although identified merely as "Fry" for the lion's share of early episodes, his name was revealed to be "Philip J. Fry". He was named so by Matt Groening in homage to Hartman. His honor in Entertainment Weekly as the 87th greatest television icon of all time came in November of 2007. The Auto Insurance company Geico debuted a series of "Caveman" commercials, featuring otherwise intelligent characters who happen to be simian-browed cavemen. The connection to Hartman's Cirroc the Unfrozen Caveman Lawyer is undeniable.

His less tangible influences are all around, from voice impressions fans have picked up from him to just the enjoyment one can get from rhyming out the Monorail song, indicating that you hate every ape you see from Chimpan-a to Chimpanzee to starting any sentence with "I'm just a Caveman". Phil Hartman is gone, but not forgotten, to say the least. His memory is still strong and his influence is all over. Can't you just picture the guy who prayed before every SNL performance up in heaven right now doing some variation on that classic DJ voice of his? He's been awarded and honored in many ways before and after his passing. My humble award is just one of many, all well deserved. The 2007 Dead Man of the Year award goes to Philip E. Hartman.

Rest in Peace, Mr. Hartman. You've given us a number of memorable characters... all with your distinctive brand on them. In your 49 years, you left a mark most can only envy. My friend may have gotten it wrong. Lionel Hutz and Troy McClure didn't die on the same day. Phil Hartman may have, but his characters are still around every day. Rest in Peace, to the man, but never the brand!
---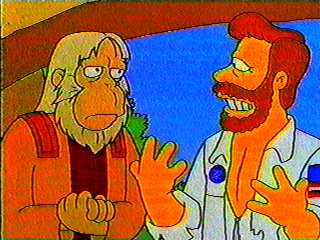 ---
Phil Hartman
(1948 - 1998):
The World's Greatest Critic's
2007 Dead Man of the Year!
.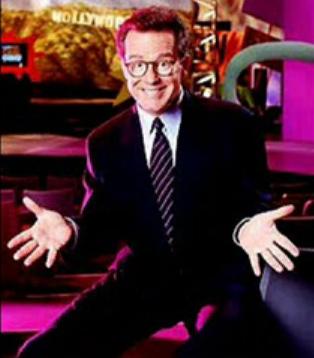 "How 'bout a Hug from Phil Hartman, Baby?!"
The man himself, with his signature smile!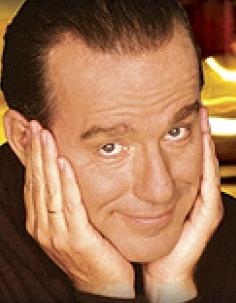 "That's just me!"
Phil from the cover of his SNL collection.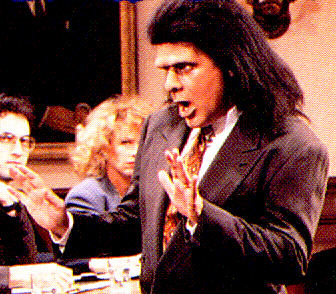 "I'm just a Caveman!"
Phil Hartman as Cirroc, the Unfrozen Caveman Lawyer!
"There are a lot of things we won't be telling Hilary!"
Phil Hartman played Bill Clinton best, visually on Saturday Night Live and later on The Simpsons, just doin' the voice!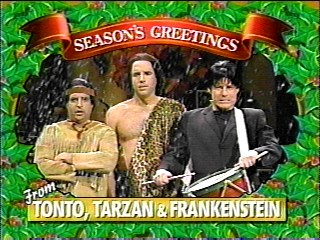 "FIRE BAD!"
Tonto, Tarzan and Frankenstein offering a very special SNL Christmas Song. Anything important that needed to be said by three characters who could barely speak was given to John Lovitz, Kevin Nealon and Phil Hartman. After Lovitz left, a new trio debuted: "Tarzan, Chris Farley and Frankenstein"!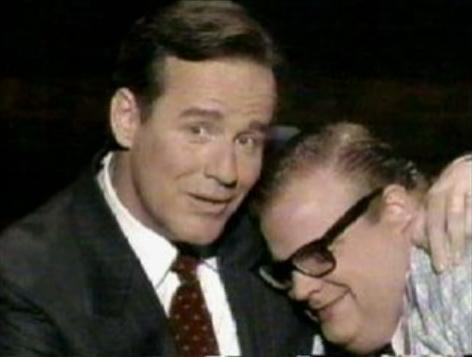 "I'll be living in a Van down by the River!"
Hartman consoles Chris Farley as he prepares to leave the cast of Saturday Night Live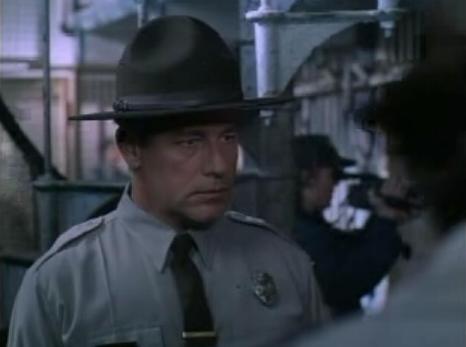 "Machine Gun Kelly had a Bitch!"
Phil Hartman as Alcatraz Guide John "Vicky" Johnson in So I Married an Axe Murderer.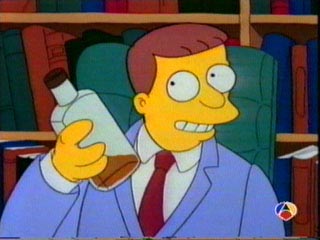 "What's that? You want me to Drink you?"
Hartman's first character on The Simpsons was Lawyer Lionel Hutz. Don't worry, he has David Crosby as his AA Sponsor. He'll be okay.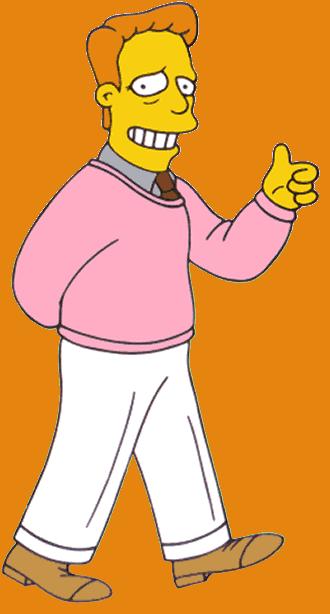 "Hi, I'm Troy McClure, you may remember me from such dates as Last Night's Dinner!"
Hartman's most popular character was washed up Actor Troy McClure. Hartman was hoping to make a Live Action Troy McClure movie one day.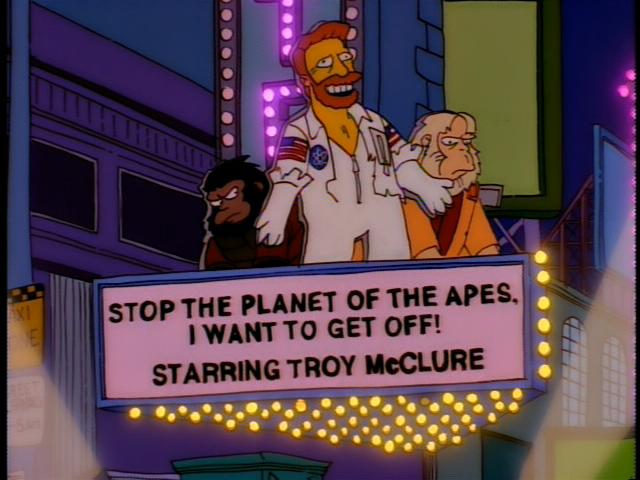 "I hate every Ape I see, from Chimpan-a to Chimpanzee!"
In the only episode that featured Troy McClure as the central Character, the comeback kid stars in a "Legitimate Theatre" production of Planet of the Apes... as a Musical!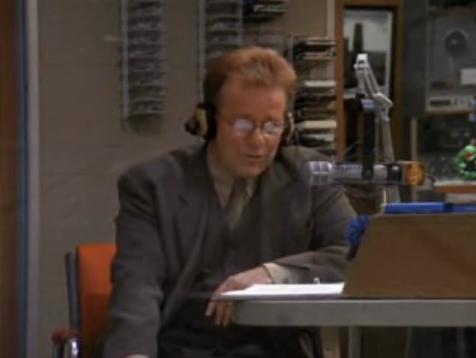 "I've pictured you Naked!"
Phil Hartman in NewsRadio! He played Bill McNeal, the obnoxious Radio Personality. Well, he had the voice for it!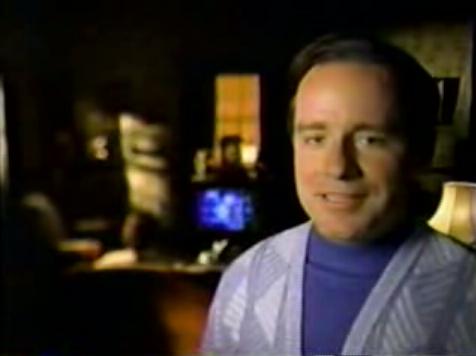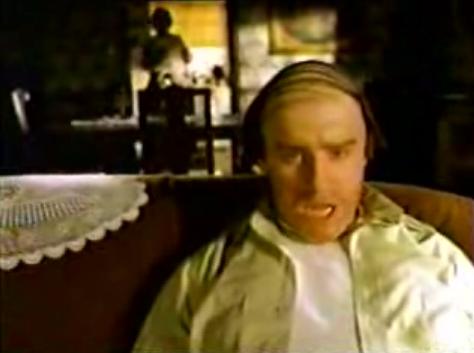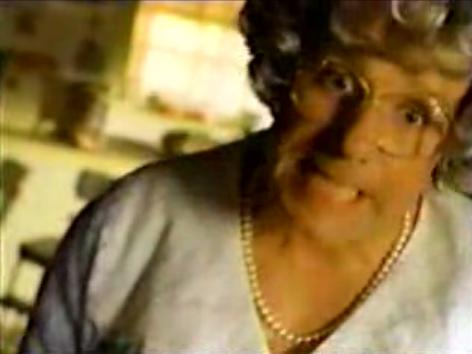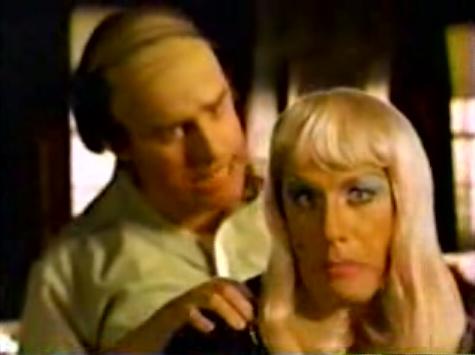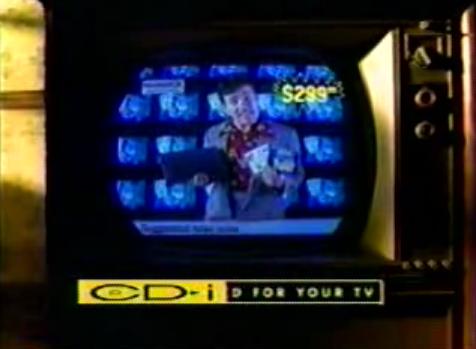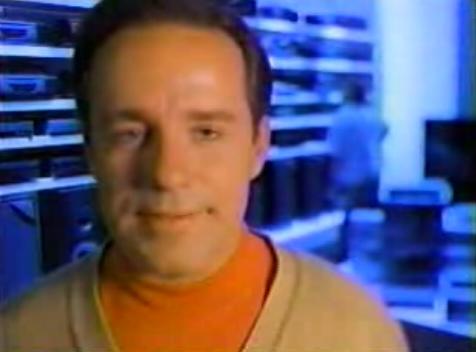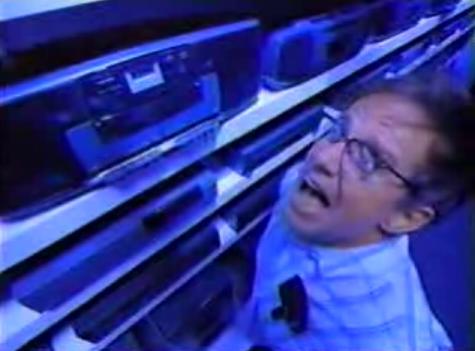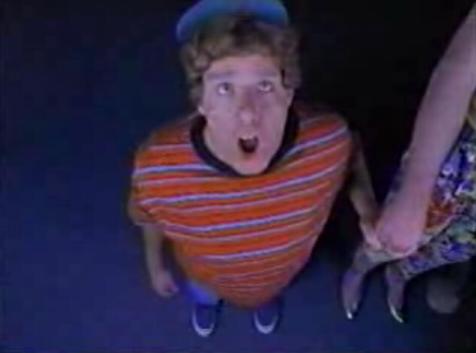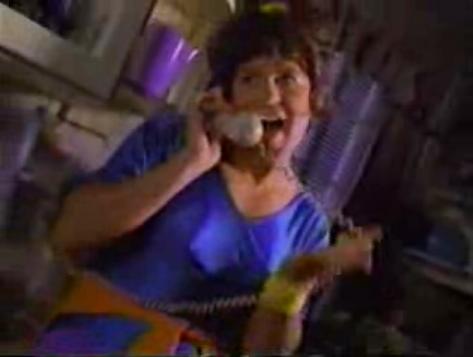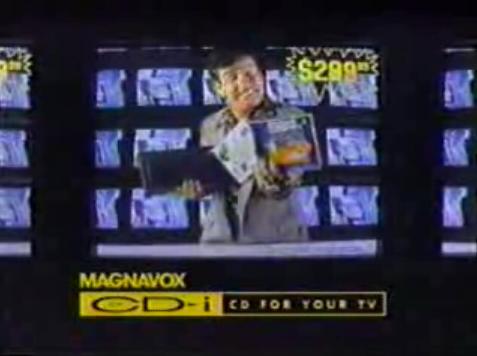 "BURN CYCLE!"
One unlikely demonstration of Phil Hartman's amazing knack for playing multiple characters came in a series of commercials for the Entertainment and Gaming Console called "CD-I". The above images show him (in order) playing the soft-spoken, sleepy-voiced announcer, you the consumer, your mom, your "babe", the crazy TV Sales Guy, that groovy announcer again (this time in a different sweater), you the (different) consumer, an Awesome kid, a girl who thinks CD-I is "Cute", a late night TV Viewer who likes looking at men and that crazy TV Sales Guy again... And this was in only TWO thirty second ads.
Want a Closer Look? Click each pic to enlarge.
---
About the DMOTYs:
The Dead Man of
the Year Awards
AKA: The DMOTYs (de*MOT*tees)
By the World's Greatest Critic!
The DMOTYs are a way to honor those whose legacy still impacts the worlds of Film, Television, Literature or Music visibly if not nominally

The nominee must have a current impact on the arts during the year in which they are nominated. The influence must be noteworthy but not necessarily commercial in import.

The intent of the DMOTY award is to pay tribute to that influence by detailing who they were, what they did and how their legacy is still being felt today. In short, its a way to put a name on the accomplishments of those who might not be in the public eye to have credit given where due.

In spite of the fact that this can only be offered posthumously, there is no morbidity in this award. Only respect and fondness.

This year, we salute the great Phil Hartman, the legendary comedian, voice actor, award-winning writer and successful graphic artist, whose many, many characters have entertained his fans for years and continue to in 2007!

Certainly this and every year there will be people that the readers might think should have gotten the award and probably some choices that you'll disagree with. Remember, opinions are like elbows, everybody's got a couple. The awardee won't be the one I "like" the best. The awardee is the one whose influence is felt most. I recommend that you direct your energy toward nominating the DMOTY for next year!

-The Most Honorable KNEUMSI!
---