Another year, another Dead Man of the Year award! I started this little corner of surreality as 2005 dawned with the intention of calling attention to those who have passed away and have left the world of entertainment better than when they got their hands on it. Each year I focused on one of our best from Obie O'Brien to Jerry Siegel and Joe Shuster to Phil Hartman, each of whom made great impacts on the years in which they were nominated (and beyond).

This year's winner is no different in impact. If anything, this year's winner had more impact on 2008 than our previous honorees had on their own years. Unlike most years, this is the first memorial WorldsGreatestCritic.com has given to someone who died in the same year in which they won their DMOTY.

This year's winner was a director, a writer, a visual effects wizard, an entrepreneur, a make-up artist and a visionary who created, or helped create, some of the most recognizable movie monsters of his lifetime (and beyond) and even put new spins on some old classics.

His name is Stan Winston.

Mr. Winston put his own name on the map in the 1970s, along with the studio he named for himself, but it was the 1980s that saw his star rise to some amazing heights. His original design creations include the Terminator endoskeleton, the Alien Queen, the Predator and even Mr. Roboto's mask.

But Winston's story starts long before he became a Hollywood staple. Stanley Winston was born on April 7, 1946 in Virginia. As a child he was more interested in toys, comic books and monster flicks than in playing outside with the other kids. That is until he started making his own Super 8 Movies, which fueled his creative interests. Winston's family encouraged him in a more "business" oriented direction (and it worked, too, seeing as how eventually, Winston was instrumental in launching no less than three companies). This practical persuasion led him to the University of Virginia in Charlottesville with the original intention of studying dentistry. It wasn't long before young Stan sunk his teeth into new studies, including painting, sculpture and acting.

After graduating from "Mr. Jefferson's University" with a degree in Drama and Fine Arts (Class of 1968), Stan Winston attended California State University, Long Beach, which soon led him to seek his fortune in Hollywood. It's noteworthy that one of the top "Creature Creators" of all time originally knocked on Hollywood's gilded door not for special effects or makeup, but to become an actor.

Stan worked as a stand up comedian while looking for an acting job. Unfortunately the well for such gigs was dry for the aspiring thespian. Therefore, he used his skills as an artist to enter into a makeup apprenticeship with Walt Disney Studios.

After a reported six-thousand hours at Disney, Stan Winston set out to start his first company appropriately named "Stan Winston Studio". Success came fast, both for the artist and for his new studio. His very first credited work as the makeup designer on the 1972 CBS television movie Gargoyles won him his very first Emmy Award. That's right, first pitch and it's a home run.

This was no fluke, either. Stan broke into film with 1974's The Bat People, but continued to work in such notable television shows as Pinocchio, Roots, The Autobiography of Miss Jane Pittman, for which he won his second Emmy and even The Star Wars Holiday Special for which he designed the "Wookiee Family" Costumes. Yes, Stan Winston designed Chewie's dad! He continued to work in film as well, lending his makeup skill to films like The Wiz, The Entity, Oliver Stone's The Hand and the Video Nasty known as Dead & Buried.

It was around this time that Winston was nominated for his first Academy Award for the 1981 film Heartbeeps. While Winston lost the award to An American Werewolf in London's Rick Baker, it's worth mentioning that 1981 was the first year that an Oscar for Best Makeup was offered... and Stan Winston was nominated! It was John Carpenter's The Thing that first got Stan Winston noticed by name. His makeup effects in The Thing were among the film's biggest draws and his work earned him not only a credit for his makeup, but a "Special Thanks" as well.

After The Thing, Winston teamed up with an up-and-coming young Canadian director named James Cameron on his third film. In hindsight it might make sense that the special makeup effects artist on the 1980 crime thriller The Exterminator and the designer of Styx's futuristic robots called Mr. Roboto would go on to create the T-800 endoskeleton from Cameron's The Terminator! This surprise hit would be among Winston's most enduring successes. Not only did The Terminator engender legions of international fans, but also led to a series of sequels and tie-ins. Adaptations of Winston's designs soon found their way into comic books, toys and novelizations. The Terminator spawned several sequels (all of which, to date, Winston has been involved in), a television series and even a theme park attraction in multiple countries.

If he had stopped with The Terminator, Winston would still have been a legend. Stan Winston, however, was nowhere close to resting on his laurels. He reteamed with John Carpenter on Starman, with Tobe Hooper on Invaders from Mars and he even worked on the gory Friday the 13th Part III.

Stan Winston hit another major career high point in 1986 with Aliens, another collaboration with James Cameron. Winston served as second unit director (as he had on The Terminator and successfully elaborated on H.R. Giger's Alien design, most notably in his creation of the now-iconic Alien Queen. Winston was nominated for an Oscar for the second time in his life for Aliens and this time he won. Two sci-fi/ horror icons in two years. How could Stan the Man follow such a feat up?

With another new sci-fi/ horror icon, of course. Stan Winston created the title character from Predator (reportedly with some input from his buddy James Cameron). Predator was yet another big hit for Stan, leading to another expanded franchise (and another Oscar Nomination). Predator 2 also featured work from Stan Winston and inspired a series of comic books in which some of his Alien creations matched up with some of his Predator creations (in a few cases they even added Terminator to the sparring list). Winston's Alien Queen went on to appear in Alien 3 and Alien Resurrection. When the Alien Vs. Predator concept made it to the big screen in 2004 and 2007, the Alien Queen was there!

Just when Stan Winston was becoming best known for creating brand new movie monsters, he used his makeup skills to re-imagine some long-established monsters like Dracula, Frankenstein, the Wolfman and others in 1987's The Monster Squad. Though Winston had been burning the camera at both ends for fifteen years by that point, he still had yet to direct a film of his own.

This changed when he co-wrote and directed Pumpkinhead in 1988. Though less than a huge hit at the time, Pumpkinhead has gone on to gain a cult following and is considered by many to be a cult classic. Since its release, three sequels, a comic book and even a model kit have been released to fans.

The 1990s showed an even bigger role for Stan Winston and his studio. After directing a kids' movie called A Gnome Named Gnorm, the effects wizard designed and created Edward's scissor hands in Edward Scissorhands (for which he was nominated for another Academy Award). Without Stan, the film would just have been Edward and probably wouldn't have had quite the impact it had.

In 1991, Winston and Cameron reteamed once again to create the enormous hit Terminator 2: Judgement Day, in its day, the most expensive movie ever made. This was no cash-in sequel, but a spectacular expansion over the original's much lower-budget vision. It won critical acclaim, an incredible box office take and even more fans and Stan Winston, whose name appeared in the credits like spots on a dalmatian, won two more Academy Awards for Best Makeup Effects and Best Visual Effects!

As if the list of big Movie names wasn't long enough, 1992 followed with Batman Returns. Stan designed the garish makeup of The Penguin, commissioned the robotic Emperor Penguin puppets (from some of the most memorable scenes) and redesigned the already gothic Gotham City to a new level of darkness. One year later and Winston's work on Spielberg's Jurassic Park was seen by audiences world wide. Jurassic Park featured literally tons of animatronics credited to Winston and his Studio and became, for a while, the biggest selling motion picture of all time. Winston's fourth Oscar (for Visual Effects) was won for Jurassic Park. Also in 1993 Winston teamed up with James Cameron again, not for a film, but to start a new company with their friend and colleague Scott Ross, called Digital Domain, which remains one of the top digital effects companies on the planet.

Digital effects, James Cameron and Iconic Hollywood Monsters all combined again in Stan Winston's next directorial effort, which he co-directed with Cameron and John Bruno. This project was not simply a film, but an experience. I'm talking about the Universal Studios theme park attraction T2 3-D: Battle Across Time! The 3-D film (which actually starred Arnold Schwarzenegger, Linda Hamilton, Edward Furlong and Robert Patrick in the roles they made famous in T2) was mixed with live look-alike actors and varied presentations, including early versions of the Terminators brought to animatronic life, right there in the theater with park patrons! After 12 years this 12 minute movie is still quite a sight to see, especially in its hard-hitting visual effects.

The list of big Winston accomplishments goes on and on, from his amazing work on AI: Artificial Intelligence (for which he was nominated for another Oscar) to his long form music video Ghosts (a collaboration with Michael Jackson and Stephen King) to his full circle trip back to the Creature Features he created for Cinemax and HBO. You'll also find the Stan Winston credit on such films as The Lost World: Jurassic Park (for which another Oscar Nomination came his way), Interview with the Vampire, Small Soldiers, Big Fish, Constantine, Galaxy Quest and, yes, Terminator 3: Rise of the Machines!

It's hard to believe that a man with this many accomplishments had any time at all for a family. After all, he considered his creations, such as Predator and the Alien Queen, to be like children to him. However, Stan Winston was a Family man in his own right. He had been married to the same woman since 1969 and he and his lovely bride Karen Winston had two children, Matt and Debbie. He was the father-in-law of actress Amy Smallman and he had four grandchildren. His extended family is far and wide with this many credits to his name and his fan base is nearly incalculable. But it's his true family that we extend our condolences and praise to here.

Stan Winston had been fighting a type of plasma cell cancer known as Kahler's Disease (or Multiple myeloma) since 2001. The Great Creature Creator succumbed to his illness on June 15th 2008. He passed away peacefully while sleeping and surrounded by his family at home in Malibu, California. He was 62 years old. His extended family immediately paid tribute to him, including Arnold Schwarzenegger, who had gone from an actor who appeared in Stan Winston's films to his job as Govern(at)or of California.

One of the truly striking things about this accomplished artist is that he continued to work on his craft right up until the very end. Stan Winston's 2008 influence is undeniable starting with his most obvious credits in 2008's blockbuster Iron Man. A huge fan of the comic book, Winston and his studio created the practical armors (of metal and rubber) that Tony Stark wore in the film and even created a giant animatronic version of the Iron Monger that stood 10 feet tall and weighed 800 pounds. Iron Man went on to become the third biggest selling film of 2008, behind Indiana Jones and the Kingdom of the Crystal Skull (at #2) and The Dark Knight (at #1).

Even without Iron Man, Stan Winston's influence was all over 2008. His works have inspired and influenced the makeup and effects artists of today to an extent that few others have. The Dark Knight was among the most makeup-centric films of the year and not only showed a definite Winston influence in its designs on Gotham City, but even showed a twinkle in its redesign of the Batman villain (just as Winston had done 16 years prior with Batman Returns). His work on T2 combined amazing makeup work with one of the first times a computer generated character was seen onscreen in place of a live actor. This was, of course, used to great success in 2008's The Incredible Hulk and Hellboy II: The Golden Army! He wasn't involved with these films, but his influence on them, direct or indirect, is clear. Then again, what company do you think designed the title prop from that Crystal Skull movie? Yep, the Stan Winston Studio! Even on television, Winston's scions continued to shine in the new television show Terminator: The Sarah Connor Chronicles, now in its second season.

At the time of his death, Stan Winston was working on two films that seem somewhat familiar given his resume. Terminator Salvation was his fourth feature film in the series as Visual Effects Supervisor (not counting T2:3D). Winston also appears in a cameo in the film, which is dedicated to his memory. Terminator Salvation is scheduled for release in 2009. Winston was also working with Spielberg on Jurassic Park IV, which was to be the fourth film in that series to feature Winston's work. Sadly, with both Stan Winston and writer/ creator Michael Crichton passing away in 2008, Jurassic Park IV has been shelved for the time being.

Whether Jurassic Park IV ever makes it to the screen or not, the legacy of Stan Winston is written all over film today and will continue to be for years to come. His fingerprints can be found on such icons as The Terminator, Batman, Edward Scissorhands, Chewbacca's family, The Thing, Jason Voorhees, the Alien Queen, Predator and the famed T-Rex from Jurassic Park! His works have not only inspired like-minded artists in his own field(s), but also comic book creators and even theme park attractions, such as T2: 3D and Jurassic Park: The Ride!

Stan Winston did more in a fraction of his career than most could claim in their entire lifetimes. As writer, director, special effects artist and makeup designer, the man has earned his place in history and his star on the Hollywood Walk of Fame (he's one of only two special effects techs to have one). He worked with some of the biggest names in film and created (or re-created some of the biggest movie monsters of all time, while still having time for a family life. 2008's year in film would look very different without the influence and impact of Stan Winston. The same is true for 2009 and beyond. The Stan Winston Studio, Digital Doman and Stan Winston Digital are still creating and turning heads, as are those less directly affiliated with Winston, who nonetheless have learned from his many examples. Rest in Peace, Creature Creator! Thank you for your contributions every year since 1972 including this year, next year and beyond. Your undeniable influence has made you the unquestionable Dead Man of the Year in the very year we lost you. While you are more than deserving of the memorial, I only wish you weren't qualified for this one and we could see a few more of your creations!

See you in the next reel, Creature Creator!
---
Stan Winston
(1946 - 2008):
The World's Greatest Critic's
2008 Dead Man of the Year!
.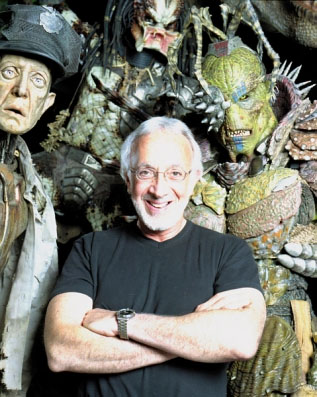 "The Creator and the Creations"
Stan Winston poses with just a few of his intellectual scions!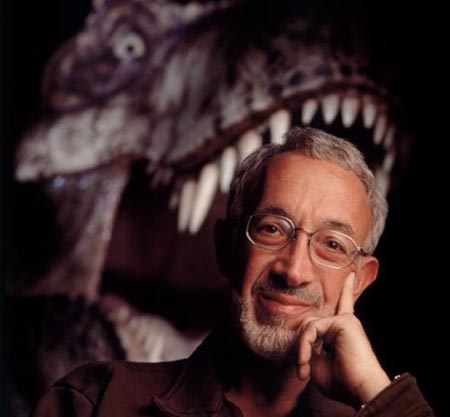 "He bites!"
Stan Winston relaxes with one of his creations, a T-Rex from Jurassic Park.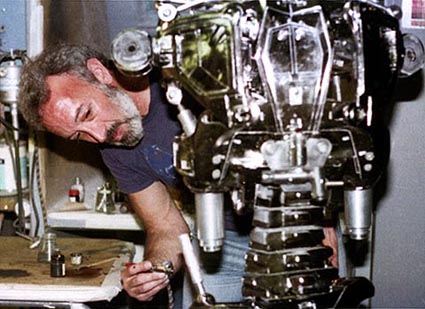 "Orthopedic Winston!"
Stan Winston works on one of his most famous creations, the Terminator endoskeleton!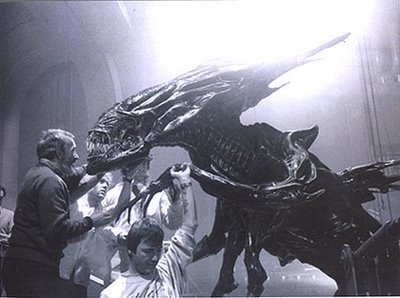 "Yes, your Majesty!"
James Cameron gives direction to the character he created with Stan Winston... the monstrous Alien Queen from Aliens (1986).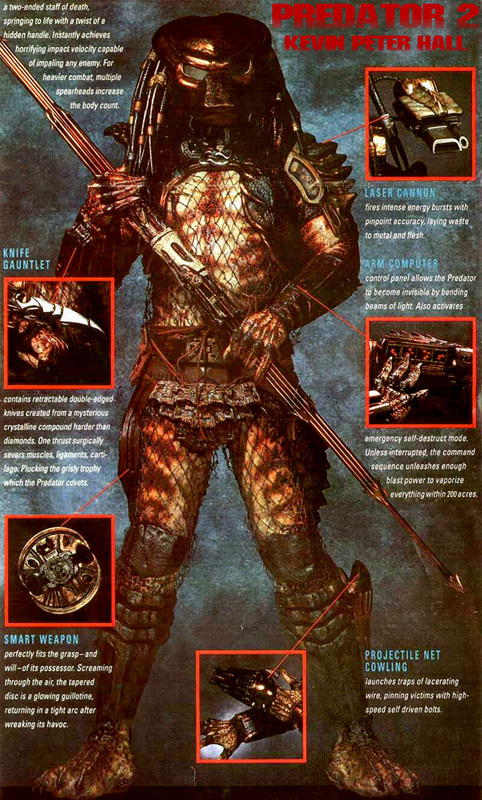 "Dread Central!"
Kevin Peter Hall was the man behind the Mandibled Mask that Stan Winston created for the Predator films. This ad for Predator 2 (that ran in comic books, among other places) shows just some of the great detail that Stan Winston put into his creations.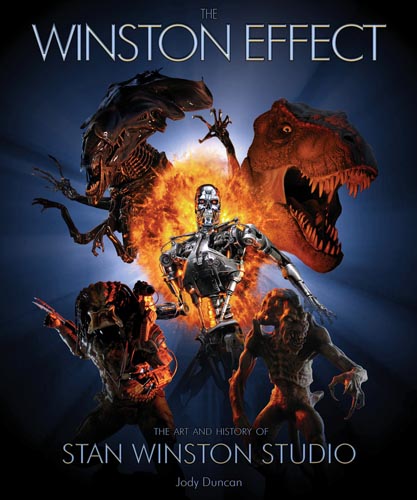 "Attack of the Winston Scions!"
The "How'd he do that?" effect was strong enough that an entire book called The Winston Effect: The Art & History of Stan Winston Studio was released in 2006. The book was written by Jody Duncan (author of a great many "behind the scenes" books) with a foreword by James Cameron. Pictured are the Predator, the Alien Queen, the T-Rex, the Terminator and Pumpkinhead.
---
---
About the DMOTYs:
The Dead Man of
the Year Awards
AKA: The DMOTYs (de*MOT*tees)
By the World's Greatest Critic!
The DMOTYs are a way to honor those whose legacy still impacts the worlds of Film, Television, Literature or Music visibly if not nominally

The nominee must have a current impact on the arts during the year in which they are nominated. The influence must be noteworthy but not necessarily commercial in import.

The intent of the DMOTY award is to pay tribute to that influence by detailing who they were, what they did and how their legacy is still being felt today. In short, its a way to put a name on the accomplishments of those who might not be in the public eye to have credit given where due.

In spite of the fact that this can only be offered posthumously, there is no morbidity in this award. Only respect and fondness.

This year we salute Stan Winston, the great makeup artist, special effects genius, writer, director and Creature Creator whose influence in all these fields and more has been felt since he first started his career and continue to be felt in 2008 and beyond.

This year we received a ton of DMOTY Nominees (see below), but only one can win. Like any year there will be people that the readers might think should have gotten the award and probably some choices that you'll disagree with. Remember, opinions are like elbows, everybody's got a couple. The honoree won't be the one I "like" the best. The awardee is the one whose influence is felt most. Agree or disagree, you're always invited to participate in nominating the DMOTY for next year!

-The Most Memorable KNEUMSI!
---