It's that time of year, once again! Time to start counting down the number of shopping days till Christmas? No, but go ahead. I mean it's time for the annual Dead Man of the Year award! Since the end of 2005 WorldsGreatestCritic.com has honored those who have passed away and have left the world of entertainment better than when they got their hands on it each year around this time... and hardly has the winner been a repeat in style or substance. From the true daddio of Mr. King Kong to the two creators of Superman to the incomparable and multi-talented Troy McClure to one of the greatest Monster Makers of all time, the DMOTYs have saluted the best and the brightest who have sluffed off this mortal coil.

So, who covets the most coveted (read "only" one) of WorldsGreatestCritic.com's high honors? Well, this year was no different than a great many recent years with big features, relaunches and much anticipated blockbusters as well as thought-provoking, zeitgeist-exploring art films. Out of all of these, what was the most noteworthy in the phaser-sites of the USS Entertainment? My hailing frequencies are open and I'm hearing Star Trek! We've had our Terminators, our Watchmen, our Bloody Valentines, our Slashy Goalies our Claw-Weilding Mutants, that bunch of Basterds, our Great Detectives, our Surrogates and even our Avatars... all of which made much more of an entertainment splash than, say, the release of Piranha III: The Spawning II might. Everyone has their favorite but the culmination of the longest history of Filmed Entertainment this year boldly went where most sagas only fear to go.

So if we're honoring Star Trek the obvious DMOTY winner must be Gene Roddenberry, right? Good thought, yes. Without "The Great Bird of the Galaxy" we wouldn't have any Treks to Trek at all. However, though Gene most assuredly thought up the entire "Wagon Train to the Stars" idea, it took a village of great creators to turn it into the multi-media saga that Star Trek became, spanning no less than six television shows and eleven movies to date (along with more video games, books, comics and collectibles than I care to count).

Only one of these creators managed to be involved in not just one or two of these, but in every single television series and every single one of the movies, not to mention a great many of the "other Media" items and a hell of a lot of other projects both with and without the name of Gene Roddenberry attached to them. Who is this Dead Man? Why no Dead Man at all! Majel Barrett is the first ever WorldsGreatestCritic.com Dead Woman of the Year!!!

Although Barrett was, throughout most of her life and career, best known for her work in the projects of her husband Gene (to the point that she was commonly credited as Majel Barrett Roddenberry in many later productions), her acting career started years before she met Roddy McFuturist and, in fact, continued on long after his death (seventeen years before her own).

The future actress and producer of the future was born Majel Leigh Hudec on February 23, 1932 in Columbus Ohio where she began to take acting classes at the young age of ten. Interesting for an actress whose career spanned six decades, Barrett's ambition didn't point toward acting right away. Instead the one-day "First Lady of Star Trek" attended the University of Miami (Coral Gables) with the intention of becoming a law clerk. When that didn't work out quite right she headed North to New York to try her hand at acting and soon made her way to Hollywood, because True Believers, the acting ambition DID work out "Quite Right"!

She began appearing on television and in movies (notably Will Success Spoil Rock Hunter?) throughout the late 1950s. In the 1960s she made appearances on such programs as Leave it to Beaver and Bonanza, but what might be considered her "Big Break" was her work with the studio Desilu! There she worked with Lucille Ball on The Lucy Show and appeared on The Untouchables. It was her appearance on a 1964 episode of the Desilu-Produced program The Lieutenant that introduced her to the show's creator (and her future husband) Gene Roddenberry. Barrett was impressed by Roddenberry, whom she described as "very tall and imposing" but "also very kind and sweet". Roddenberry was impressed enough with Barrett to cast her in his next creation for Desilu which he would call "Star Trek"!

Majel Barrett's involvement with Star Trek began before Star Trek was ever even seen (and was certainly not in the form that audiences came to know for its initial run on NBC. Roddenberry cast Majel in the show's first pilot episode known as "The Cage", not as a waitress or spokesmodel as she had been cast before, but as the USS Enterprise's first ever first officer (Credited as "Number One"). NBC famously rejected this pilot, calling it too "Slow", "Cerebral", "Intellectual" and with "not enough action". But they also called it "too good for television", so they commissioned a second, completely reworked pilot (this time in the more recognizable format we know today, with Kirk, Spock and Bones)! Sadly for most of the cast... the re-working eliminated most every actor that appeared in the pilot. Lucky for Majel Barrett she was one of only two who carried over into the new (now picked-up, purchased and commissioned) T.V. Series (the other actor was, of course, Leonard Nimoy)!

Barrett's new role on the show was that of Nurse Christine Chapel, who would remain with the franchise well into the movie series. However, Majel had another, arguably more important role in the new series as well, that of the Enterprise herself. Yes, it is this role as the voice of the "Ship's Computer" that made her the most prolific (and one of the most recognizable) contributors to Star Trek of them all. This computer voice appeared in Star Trek, Star Trek: The Animated Series, Star Trek: The Next Generation, Star Trek: Deep Space Nine, Star Trek: Voyager and even two episodes of the prequel series Enterprise! Her vocal talents didn't stop with Star Trek on screen either. Barrett's computer blurbs graced no less than eight Trek video games, she lent her voice to the animated character of Anna Watson in the 1994 Spider-Man cartoon, she voiced the "Queen Robot" in the upcoming Hamlet A.D.D. and even spoofed her own "Ship Computer" voice in the 2001 Family Guy episode "Emission Impossible". Fiction aside, it is Majel Barrett's voice that is heard on the automated railroad-defect detectors on numerous railroads throughout the country.

After Star Trek's early cancellation in 1969, Gene Roddenberry and Majel Barrett were married in a Shinto-Buddhist wedding in Japan on August 6 (followed by a Civil Ceremony on December 29 of that same year). They remained married until Gene's death in 1991. In the meantime, however, their adventures together were far from complete! Barrett appeared in Roddenberry's post-Trek sci-fi show Genesis II before (re-)joining the cast of Star Trek for the aforementioned Animated Series. That's not even mentioning her appearance in 1973's Westworld.

The planned sequel-series to Star Trek, to be called Star Trek: Phase II had plans to feature Barrett as (now DOCTOR) Christine Chapel (and, in theory, the Computer Voice again). When that project was scrapped in favor of the theatrical release Star Trek: The Motion Picture, Majel Barrett's Dr. Christine Chapel was there, right next to old Bones McCoy!

In between Doctor Chapel's role in Star Trek: The Motion Picture and the sequel Star Trek IV: The Voyage Home Majel Barrett appeared in a very different Hospital... that of the Soap Opera General Hospital! However, her contributions to Science Fiction didn't end with Star Trek, nor did they end with the death of her husband Gene. In addition to lending her voice to the Enterprise in three of the four Next Generation theatrical films (and even writing one episode of Deep Space Nine), Barrett appeared in a science fiction themed episode of Diagnosis Murder, along with several Star Trek and Lost In Space alums as well as 2000's Mars And Beyond. Back to her husband's creation, Majel appeared not only as the Ship's Computer on Star Trek: The Next Generation, but also as the recurring character Lwaxana Troi. Still, one of the more interesting appearances Majel Barrett made was not on any Star Trek show, but on a television series that many consider to be a direct competitor to Star Trek. Yes, it was Majel Barrett who played Lady Morella in "Point of No Return", a 1996 episode of... Babylon 5!

Gene Roddenberry had left a legacy of Sci-Fi behind when he died and this led directly to his widow's successful work behind the camera. Majel first resurrected from Gene's notes and plans the science fiction program Earth: Final Conflict and then Andromeda, both of which she was credited as Executive Producer: Majel Barrett Roddenberry. On Earth: Final Conflict she even played the character of Julianne Belman for a full 13 episodes.

Obviously (and rightly) it is Star Trek that Majel Barrett is best known for and most associated with, partially, but not exclusively, because of her marriage to its creator. While Gene Roddenberry was nicknamed "The Great Bird of the Galaxy", Majel Barrett was referred to as "The First Lady of Star Trek"! In the year 2009 the saga of Star Trek was given new big-screen treatment and has become a popular hit again for the first time in years. Although Majel Barrett didn't live to see the debut and subsequent big success of 2009's Star Trek, audiences who helped make the film a big success certainly didn't miss her. Once again, the voice heard emanating from the Federation Computers was that of Majel Barrett!

While Star Trek is set to continue its voyages indefinitely, the Enterprise will set future sail without new contributions by Majel Barret. On December 18, 2008, a mere ten days after completing the voice work for the Star Trek film, Majel Barrett succumbed to complications from leukemia and died in her Los Angeles Home at the age of 76. She is survived by her son Rod Roddenberry.

On January 4 of 2009 over 250 people attended the huge funeral for "The First Lady of Star Trek" including her Star Trek costars Nichelle Nichols, George Takei and Walter Koenig as well as her Star Trek: The Next Generation costars Brent Spiner, Wil Wheaton and Marina Sirtis. The 2009 Star Trek film was dedicated to Majel Barrett's memory.

This actress, writer, producer and icon's final resting place will not be in the ground under a stone. In the year 2010, cremated remains of both Majel Barrett and her husband Gene Roddenberry will be sealed in a space capsule and launched in a "Memorial Spaceflight" into outer space by Celestis, Inc. Majel Barrett's final space ship will continue to travel the stars with her husband and tributes from fans and will not return to Earth.

In Earth, Space or any other planet, it's easy to see Majel Barrett's contribution to 2009 and beyond. Her voice will ever be an influence to computer-style voices while her wry, comical performances in later Star Treks and their contrasting professional and cool roles in early Star Treks show her range as an actress. As the lady who brought her late husband's later wishes to success on the small screen and kept contributing to his biggest franchise until LITERALLY the month she died, her role in Star Trek is more than clear and firmly placed. Her roles in varied other properties along side some very big and noteworthy names have shown just how prolific her career outside of Outer Space really was.

Rest in Peace, Nurse, Waitress, Doctor, Ambassador, Writer, Producer, Haunting Mechanical Voice... and part of our lives for decades. There is no denying your influence or your worthiness to be the 2009 Dead Woman of the Year. Although you're gone... we'll be hearing your voice for years to come as we have for years gone by.

See you in the next reel, First Lady. God Bless!
---
Majel Barrett
(1932 - 2008):
The World's Greatest Critic's
2009 Dead Woman of the Year!
.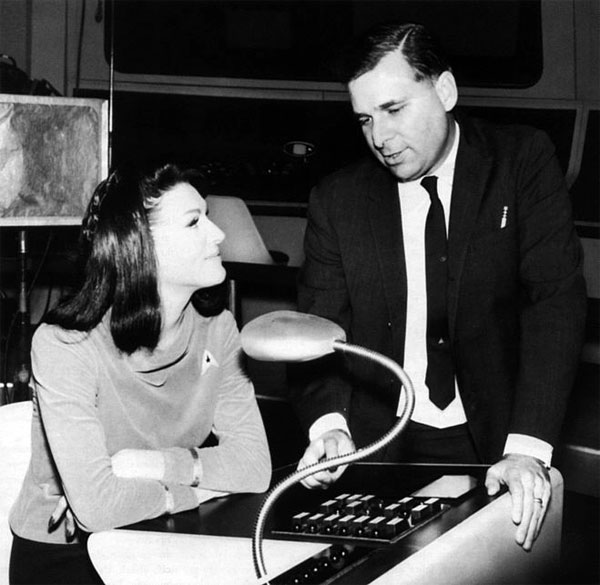 "Number One and her Number One"
First Officer Majel Barrett on the early set of the Enterprise with her boss (and future busband) Gene Roddenberry!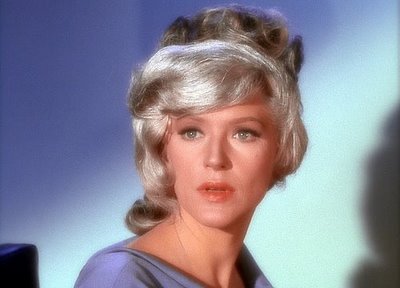 "Nurse Chapel!"
Majel Barrett's more relaxed and softer character from the main run of Star Trek.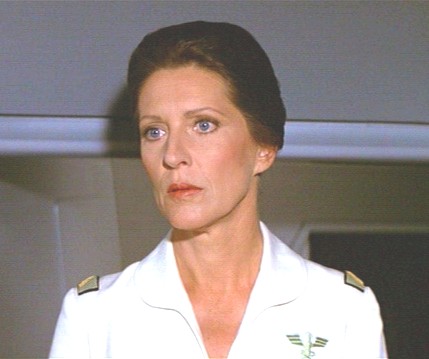 "Doctor Chapel!"
By the time Star Trek was promoted to the big screen Nurse Chapel had graduated from Med School and was now one of the (newly refitted) Enterprise's chief Medical officers.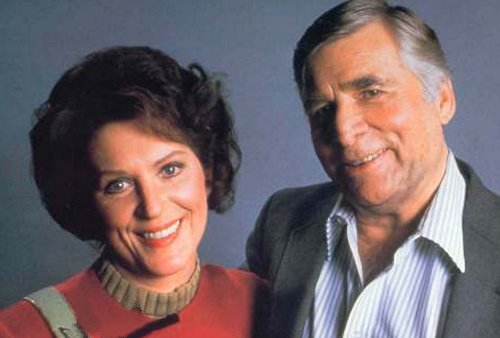 "Doctor Chapel and her Number One!"
Nurse Chapel in her Star Trek IV-Era Officer's uniform poses with the Producer who created her character... and the dude who swept her off her Starfleet-Issued boots!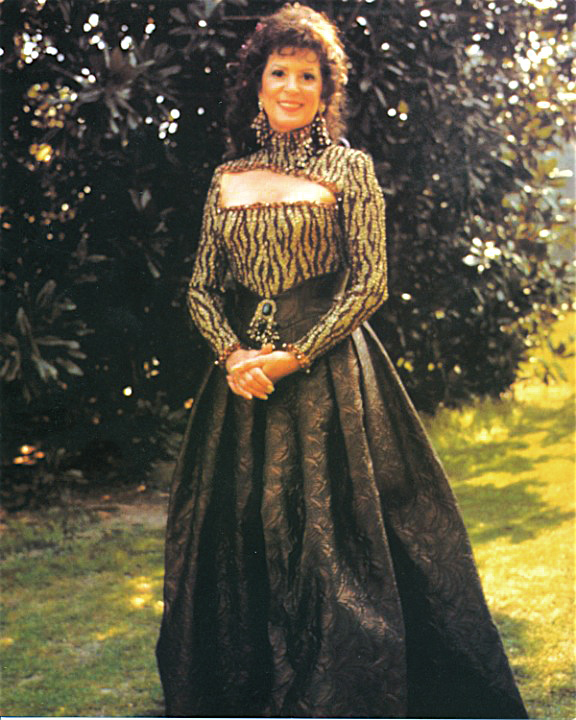 "Beware! This woman is DANGEROUS!"
On Star Trek: The Next Generation, Majel Barrett not only provided the voice for the Enterprise's computer but also appeared as Lwaxana Troi, the ever randy mother(and frequent embarrassment) of the ship's Counselor Deanna Troi.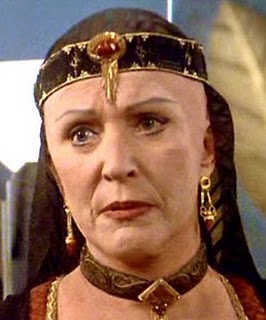 "The HAUNTING of MORELLA!"
Traitor or just good sport? Majel appeared on several episodes of Deep Space Nine, a show that has been accused of being a rip-off of the proposal for Babylon 5. Undaunted, the sporting Mrs. Barrett-Roddenberry also appeared on Babylon 5 as the Centauri Lady Morella!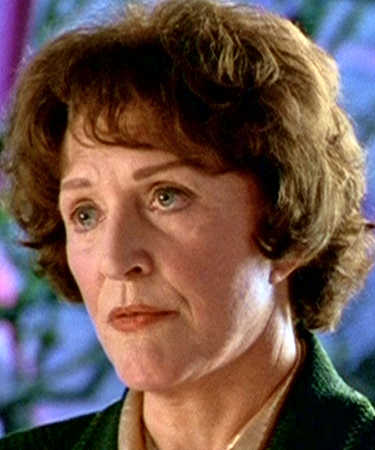 "Feeling Conflicted?"
The 2009 Dead (Wo)man of the Year brought two of her husband's planned television shows, Andromeda and Earth: Final Conflict to Syndicated Sci-Fi reality, executive Producing both and even appearing in the latter. Interestingly enough she kept her clothes AND her hair on in this one. Go figure.
---
About the DMOTYs:
The Dead Man of the Year Awards
AKA: The DMOTYs (de*MOT*tees)
By the World's Greatest Critic!
The DMOTYs are a way to honor those whose legacy still impacts the worlds of the arts visibly if not nominally!

The nominee must have a current impact on the arts during the year in which they are nominated. The influence must be noteworthy but not necessarily commercial in import. The intent of the DMOTY award is to pay tribute to the nominees' influence by detailing who they were, what they did and how their legacy is still being felt today. In short, its a way to put a name on the accomplishments of those who might not be in the public eye to have credit given where due. In spite of the fact that this can only be offered posthumously, there is no morbidity in this award. Only respect and fondness.

This year we salute Majel Barrett, the voice of Star Trek, the actress, writer, producer and visionary futurist whose impact on the saga of Star Trek and beyond had both a direct and indirect influence on 2009!

Each year we receive many nominees but only one can win. Agree or disagree, like or dislike, the winners and runners up are some of the best in their game and are being felt still. As always, the honoree won't be the one I "like" the best, but the one whose influence is felt most in the previous year. Everyone is invited to participate in nominating the DMOTY for next year, every year!

-The Most Thoughtful KNEUMSI!

---