The Dead Man of the Year award! Coming from WorldsGreatestCritic.com, one of the most sarcastic and irreverent of all review websites out there, what could be more morbid and scary? Strangely enough, That's not it at all and the DMOTY award article is one of the few times each year I'm completely serious (for a huge change). Then again, maybe this year's winner would forgive me for being a little funny.

Since 2005, we've taken a few moments to pay respectful tribute to those who have passed on before us and left the world of entertainment a better sphere of influence to the point that the honoree's fingerprints are all over the year, as if they were still pulling the marionette strings themselves. None of the previous years has been the proverbial lead pipe cinch when it comes to getting on the trolley and finally choosing the honoree, but this year I'm especially slow in the revelation. This sad tardiness isn't due to lethargy, nor is it due to alcohol abuse or even the concept that I couldn't quite pinpoint the King Kong-sized, Superman-strong, Troy McClure-talented, Effectively Special Great Bird in the room. No, it's because there were so many wonderful impacts on 2010 that choosing just one was like deciding which one of your children to give a Kidney to (whether they need one or not).

So many possibilities and what is one man to do? In this case "The Year we Make Contact" isn't exactly a repeat of previous years! This year's DMOTY is decidedly off-the-beaten-path from the most obvious choices out there but his impact is no less for the uniqueness. This choice is as surprising as the honoree's career has been. Don't get so excited that your gun goes off prematurely, just think about baseball and you won't have that problem anymore. Last year may have given us our first ever Dead Woman of the Year but for 2010, allow me to present the MOTHER of all DMOTYs!

"Give up?", he boldly asked even though the Dead Man of the Year's name is listed in huge letters just above this article, as if the honoree's photograph isn't right next to this very paragraph! That's right, folks... the Dead Man of the Year is the Deadpan of ANY year, Leslie Nielsen!

Yes, Leslie Nielsen! Only the second-ever Canadian American honoree, only the second ever DMOTY to be honored the same year he died, only the second comic actor and only the seventh Dead Man of the Year to be honored in the past six years. (Note: The 2006 award went to two men, look it up. But then again, the 2009 award-winner was a woman, so I guess he's the sixth of six, if you're taking dead "Man" of the year literally, which, by definition of the rules, can't be taken exactly literally so... I'm not sure why I even wrote this whole parenthetical explanation which really was more of a wast of time! I wish my BACKSPACE key wasn't broken!)

Leslie William Nielsen was born in Regina, Saskatchewan Canada on February 11, 1926 to a Canadian Mounty from Denmark and his Welsh Wife! That's right, he was born to a Danish Canadian Mounty Daddy named Ingvard and a Welsh Homemaker Mommy named Mabel and some people were surprised that he had comedy in his blood. You can't make this up, man!

Unfortunately, living with said Red-Coated Constable was no laughing matter, as the senior Nielsen was abusive to his wife and Leslie and his brother Erik (incidentally a future Deputy Prime Minister of Canada). Though both boys were destined for greatness in one way or the other, Leslie Nielsen's first method of Escape wasn't into acting. Right out of High School, Nielsen enlisted in the Royal Canadian Air Force to become an aerial gunner during World War II. Fortunately for us (and for the Nazis he surely would have sent straight to hell), our man never saw combat before the Great War's end. Instead Leslie used his eventually recognizable voice to become a Radio DJ (after his famous uncle, radio actor Jean Hersholt). Also like his uncle, Nielsen's Radio work led to theatre work which led to a career in moving pictures.

He performed in Summer Stock Theatre and was truly inside the Actor's Studio before his 1948 television debut opposite no-less a co-star than Charlton Heston! This debut led to a surprising amount of work in Live Television episodes both on camera and appearing only in the form of his unique and noteworthy voice. Possibly because he was one of many stock actors of the day and possibly because live television didn't pay a whole hell of a lot, Nielsen worked more and more until he was able to leap from the small black and white screen to the big, color screen. He debuted in movie houses in 1956's The Vagabond King and quickly followed that film up with turns in Ransom!, The Opposite Sex and as a true leading man in the epic science-fiction adventure Forbidden Planet! Not bad for a long, eventful career in Cinema, wouldn't you say? Well, all of those films were in the same year of 1956! Wow!

It's safe to say that MGM was good to Nielsen, giving him shots in musicals, sci-fi flicks, dramas, romances and, yes, comedies all within the mid-1950s. Still he was mostly considered a charming leading man, a dramatic actor, action hero and romantic lead, not the farcical comic he would one day become.

For some it's hard to believe that the eventual star of The Naked Gun series was once known for his dramatic, action-packed roles. Between 1959 and 1961, Nielsen starred in the Disney adventure TV series Swamp Fox and even sang lead vocals on the theme song. The show was a big and well-respected hit in its first run and continued to be viewed throughout the next few decades in repeats on ABC and The Disney Channel! I, personally, was born fifteen years after the first episode aired and I watched it... without even realizing the star was "the guy from Police Squad!"

Yes, Hollywood Studios were good to Leslie Nielsen in the 1950s, but Leslie Nielsen's return to television throughout the 1960s proved to be just as good. These were only a few of his over one thousand five hundred television episodes throughout his amazing career. Still, his appearances in high-profile Hollywood movies were far from finalized in this era. Nielsen helped to lead an all-star cast in the dramatically SOAKED action flick The Poseidon Adventure, not to mention the actioner Project: Kill and the disaster flick City on Fire!

However in 1980 something amazing happened that impacted the world of Comedy like an airliner through a terminal window and propelled Leslie Nielsen's career with Jet Force into new territory. That little something-something was, of course, a High-Flying motion picture called Airplane!

Airplane! was a wild comedy farce of epic proportions that directly parodied some of the kinds of films that Nielsen had been known for and consisted of a lot of serious actors borderlining on craziness in a crazy world much more farcical than our own, but hilarious ever giant leap of the way. While Airplane! is something of a milestone and turning point in Leslie Nielsen's career, it's worth noting that our Honoree was not the star of this film, nor was he even the immediate break-out success from the film. What's more, the out-of-control silliness that the very serious actor would later be known for wasn't actually present in Airplane! In fact, Nielsen's Dr. Rumack was decidedly played to type... or should I say, then-type. While other characters were drawn into the world of silliness, making faces, hanging from the ceiling and being decidedly comical Nielsen's character never cracked a smile and amid the most bizarre of movie moments he kept his very serious composure. In fact, Nielsen, and thus, Rumack, seemed to be completely oblivious to the fact that the world around him has crashed decidedly into the surreal. He is on a plane facing certain disaster and although his nose is growing, Pinocchio-style when he glosses over the truth, even though he repeats the same encouraging words, no matter the status of the emergency, even though part of his checking of the cockpit's "instruments" includes playing one of those instruments in a Jazz Quartet and even though he signifies his position as a physician by wearing a stethoscope as a casual adornment as he relaxes, by GOD he's going to take this disaster seriously. Perhaps this is the reason he stood out in the ensemble. Like one of those dogs that manages to be so ugly it's cute again, Leslie Nielsen took the insane proceedings of Airplane! so remarkably seriously and was so incredibly dramatic in his humorless delivery that, by GOD, Dr. Rumack ended up being exponentially funnier!

To be sure, neither Leslie Nielsen nor Airplane's creators Jim Abrams, Jerry Zucker and David Zucker actually created "Deadpan", a style of comedy that was first officially named in the 1920s (only coincidentally the decade Leslie was born) and goes back hundreds of years, but it could be argued that this creative gang reinvented Deadpan into the side-splitting form that became the lynchpin of Nielsen's career. Still, that pin wasn't lynched by Airplane! alone!

In fact, it's a common misconception (but a misconception nonetheless) that Nielsen was immediately and forever after a comedian! The same month Airplane! was released, Nielsen appeared in the slasher thriller Prom Night in a very humorless (ironically or otherwise) role as a slain child's grieving father. Other noteworthy roles during the post-Airplane!, pre-Naked Gun era was a dramatic turn in 1987's Barbara Streisand starrer Nuts, where he arguably portrayed the film's catalyst and a small, but memorable role in George Romero's 1982 Stephen King adaptation Creepshow!

Interestingly enough, 1982 also marked a much larger role for Nielsen in a Zucker, Abrams and Zucker comedy, albeit to a much smaller audience, and introduced the character he would eventually be best known for... the character that truly changed his career. Police Squad! was not a movie (not yet, at least), but a television show that starred Nielsen as Detective Frank Drebin and did to Police Procedural Dramas what Airplane! had done to disaster flicks! The show was hilarious and brilliantly done, allowing Nielsen to play an ostensibly by-the-book, hard-edged veteran cop in a world as surreal and crazy as Airplane's. However, while predominantly deadpan as Drebin, Nielsen did toss in a good deal of gleeful silliness into the mixture, showing a side of him largely unseen to the public, even as Dr. Rumack!

Sadly, Police Squad was every bit as brilliant as it was short lived. This experimental, mid-season replacement show was cancelled after four episodes by ABC with the remaining two of the total six episodes burned of that summer. Luckily, six years later Drebin and a load of his fellow characters were translated (or transliterated) to the BIG, silver screen in 1988's The Naked Gun: From the Files of Police Squad! Executive produced by Abrams and the Zucker Brothers, directed by David Zucker and written by the trio (with Pat Proft), the film promised the same style of Comedy as Airplane!, from the creators of Airplane! and starring the ironically funniest guy from Airplane! And believe you, me, The Naked Gun truly delivered on this promise. Audiences and critics were rolling on the floor in unanimous, uproarious praise and the film is, today, considered one of the very best comedies of all time. This was a smash hit at the box office and spawned two sequels, the hilarious The Naked Gun 2 1/2: The Smell of Fear and the back-to-form Naked Gun 33 1/3: The Final Insult, which brought back certain elements of Police Squad! unseen since the television show itself!

Airplane! (and Nielsen's contributions to it) was the main reason that audiences flocked to The Naked Gun but it was The Naked Gun that propelled Nielsen back into secure stardom and firmly cemented his reputation as a comic actor and the first choice for Movie Farces. Leslie Nielsen immediately followed The Naked Gun with Repossessed, a spoof of The Exorcist that actually co-starred Exorcist kiddo Linda Blair, possessed, as the title might suggest, all over again. He went on to star in a number of farces both during and after the Naked Gun Trilogy in increasingly silly and less deadpan farces like the cartoon adaptation Mr. Magoo, the Sci-Fi spoof 2001: A Space Travesty, Mel Brooks' horror send-up Dracula: Dead and Loving It Pat Proft's own spoof of The Fugitive, called Wrongfully Accused and the Secret Agent farce Spy Hard, which featured none other than Andy Griffith as a Supervillain.

Although none of these films quite enjoyed the classic status of Airplane! or the enormous financial returns of The Naked Gun or the critical and audience approval either, all of these demonstrated Leslie Nielsen being hilarous and giving his all to interpret the comedy from script to screen. True, his films were only as high-quality as the material he had to work with, but even at the lowest point, Nielsen himself was a lot of fun to watch. Then again, not every film could claim David Zucker as writer or director.

Luckily in 2003 and 2006, Leslie Nielsen and David Zucker reunited for the latter-day horror satires Scary Movie 3 and Scary Movie 4 in the long-running parody series which was, at that time, in the creative hands of Zucker. The films proved to be his first real successes in slapstick since The Naked Gun, showed his first reprise of a character since Frank Drebin and kept the absurd comedy he had become known for pushing all boundaries (up to, and including, Nielsen's appearance as the completely naked President of the United States)! Also with Zucker as writer and director was 2008's "Big, Fat, Important Movie" An American Carol, which combined parody with social satire and featured Leslie Nielsen in an important supporting role.

Leslie Nielsen may now (and forever) be known as a comic actor, although his career spans many genres. He himself argued that Comedy was his forte and that he was far from cast "against type" in comedies. Perhaps he's right and he was cast against type in all of those other film genres. In addition to his movie roles Nielsen was an avid golfer, a love that he translated into a series of farcical "instructional videos" in which he played some unashamedly, admittedly "Bad Golf" and taught others how to play just as badly in a most hilarious way. In 1993, Nielsen tried his hand as a writer with the mock-autobiography The Naked Truth (co-written with David Fisher), which told a lot less about Nielsen's real life than this article does, instead focusing on his marriage to Michelle Pfeiffer (which never happened) and his friendships with both actor James Dean and puppet Howdy Doody! Even the peanut gallery can agree that he had embraced his farcical comedy stylings in this book either because this is just what the public would want from him (and would therefore fork over their hard earned greenbacks for) or because often his own real life was a lot less funny than his movies were.

More personally, Nielsen had been legally deaf for a large portion of his life and was a vocal supporter of the Better Hearing Institute. He was also married four times between 1950 and 2001 and is survived by his two daughters from his second marriage and his fourth wife Barbaree along with a half-brother named Gilbert Nielsen and a nephew named Doug Nielsen.

Unfortunately Doug Nielsen delivered the news that on November 28, 2010, at age 84, Leslie Nielsen died in his sleep from complications of pneumonia, brought on while battling a Staph infection in Fort Lauderdale, Florida. Gone, though he may be, Leslie is far from forgotten and his legacy and continuing work is written all over the year 2010 and beyond. Regardless of the genre that he is best remembered for, Nielsen portrayed well over two hundred characters on stage and screen (of multiple sizes), including over one hundred films and over one thousand five hundred television episodes. Amazingly, though the man slowed down in his 80s, he kept working until the end. His later years constituted a microcosm of his career on the whole as he was featured in slapstick farces like Superhero Movie and Stan Helsing, returning to televisions for shows like Doctor*Ology and The Canadian Conspiracy (incidentally based, in part, on Leslie's relationship with his brother Erik), appearing in dramas like Music Within and the one-man stage show Darrow and even lending his voice to a series of animated characters. Nielsen's final film roles are to be in 2011's comedy Stonerville and the animated The Waterman Movie.

His contributions to 2010 go far beyond just these great films. Leslie Nielsen was a true Renaissance Man of an actor and did amazing work over six decades and virtually every genre you can imagine. He starred in Forbidden Planet, which was among the most influential Science Fiction films of all time, with ripple-effects that are still being felt. His television work, like Swamp Fox provides a great example of how high production values can lead to a great show, not just a churned out repeat. Of course, his contributions to comedy are among his most immediately recognizable and are, if you'll excuse me, most assuredly No Joke! His delivery of even the most sophomoric lines with a flat, emotionless expression helped define what we know as deadpan and his flipping between straightforward seriousness, even in comedy, and release of the joker within him pushed farce and slapstick to a whole new level. The Naked Gun helped popularize the genre self-referencing that is written all over films like Cop Out and his straight-man-in-a-crazy-world is written all over modern farces like The Other Guys! Everything from Hot Tub Time Machine to MacGruber to Vampires Suck to Little Fockers owes Leslie Nielsen at least a little bit of credit and gratitude in 2010. No, he wasn't the Father of Farce or the Sire of Spoof, but he could be called the Sultan of Slapstick and the Godfather of Goofy! In short, he will be remembered not just with fondness but with a whole lot of laughter!

Rest in Peace, Funny Face! Surely your legacy will continue on long after 2010... and I'll stop calling you "Shirley". You've more than earned the small honor that is the 2010 Dead Man of the Year award... and I just want to tell you... good luck. We're all counting on you.

See you in the next reel, Detective, Doctor, President, Commander, Comic, Actor, Renaissance Man. Rest in Peace and God Bless!
---
Leslie Nielsen
(1926 - 2010):
The World's Greatest Critic's
2010 Dead Man of the Year!
.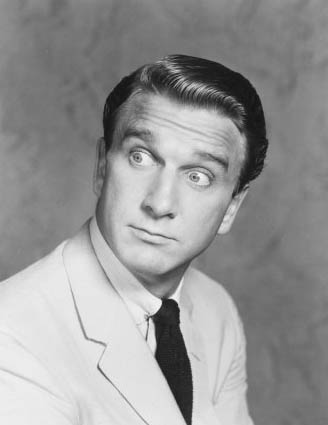 "Funny Face!"
Can't be funny till Airplane? Watch Me!
Ladies and Gentlemen, a VERY funny man: Leslie Nielsen!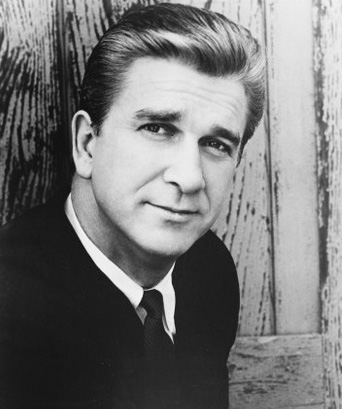 "Leading Man!"
He's known for his Deadpan Comedy now but he was once a serious romantic lead and Action Hero, a man who could both sweep Debbie Reynolds off her feet in Tammy and the Bachelor and be the Dashing Starship Captain with the pistol, years before Star Trek!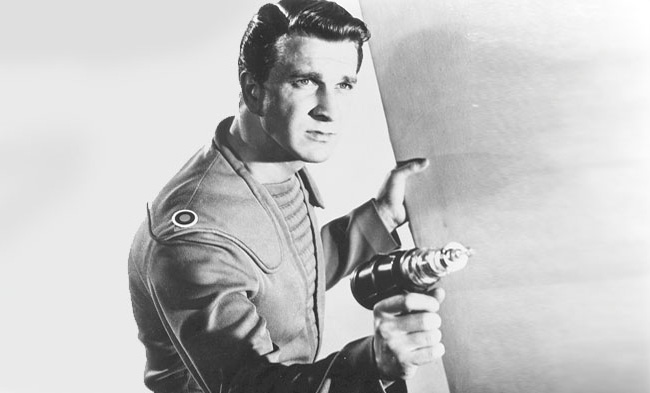 "A message from THE ACTION MAN!"
Leslie Nielsen was the smooth and smart Action Hero, star of Forbidden Planet, the Sci-Fi Shakespeare adaptation in which he out Kirked Captain Kirk... a decade before Kirk even existed!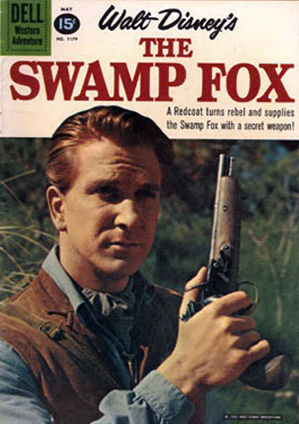 "In Comics, before he was Comical!"
On Disney's Wonderful World of Color, Revolutionary War hero Françis Marion, aka, The Swamp Fox was played by the already established Leslie Nielsen! Eight Episodes of this miniseries were produced and broadcast between 1959 and 1961, affording Nielsen enough fame and respect for his likeness to appear on the cover of Dell Comics' Four Color #1179. And this was most surely not a comedy!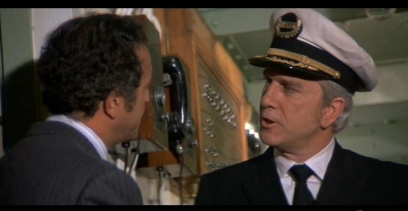 "Star... Poseidon!"
Leslie Nielsen was the Captain in The Poseidon Adventure helping to fill out an all-star cast.
It's hard to tell what pictures he's being serious in and the pictures he's joking in.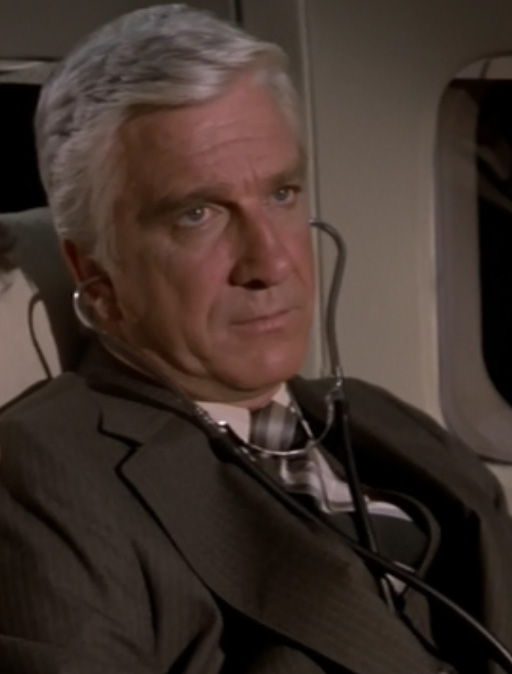 "Yes, I'm a Doctor!"
Leslie Nielsen as Dr. Rumack... He just wants to tell you both, Good Luck! We're all counting on you!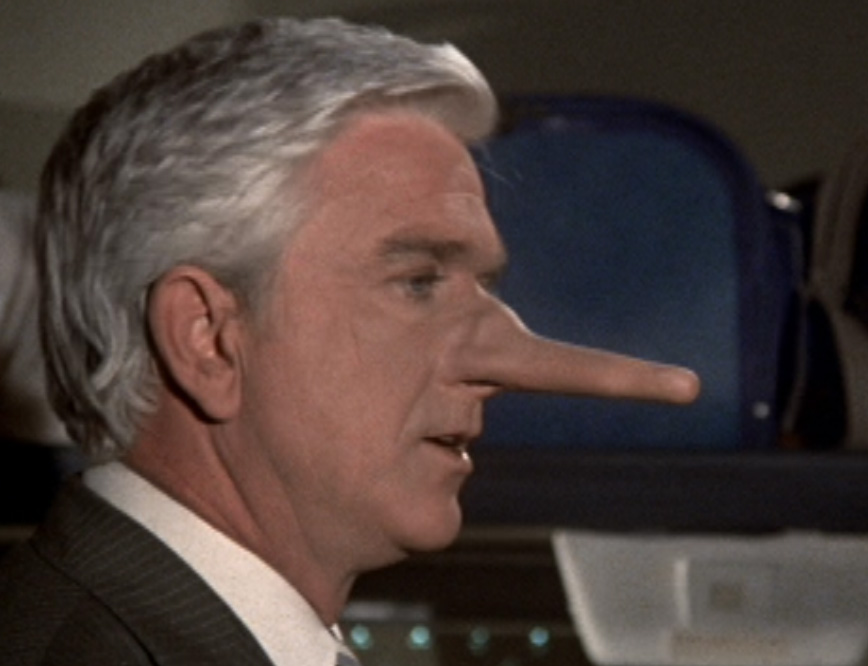 "He Speaks Jive!"
There's nothing like a doctor who will tell it to you straight, honest, pure, real... Leslie Nielsen. Not Cyrano!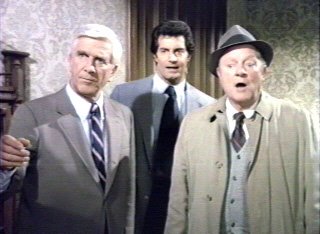 "Opening the FILES of Police Squad!"
Officer Frank Drebin as Leslie Nielsen... I mean Leslie Nielsen as Officer Frank Drebin, the part that revolutionized his career. He was still taking dramatic parts after Airplane!, with the notable exception... of Police Squad!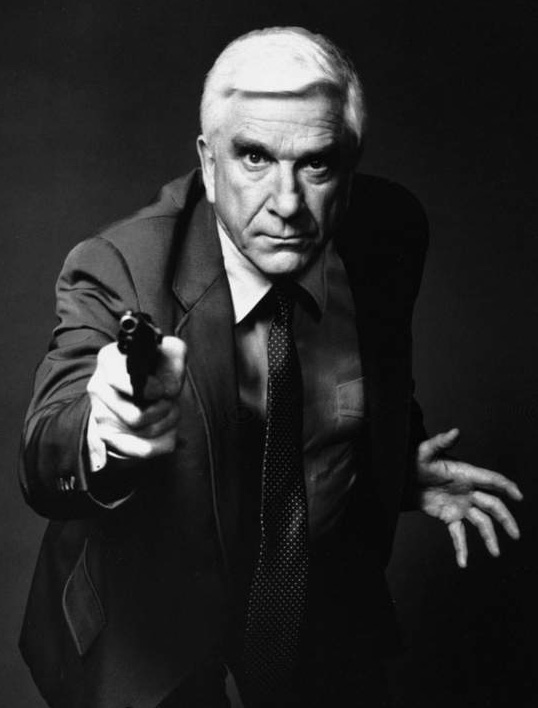 "A Message from the STUPIFACTION MAN!"
Airplane! and Police Squad! proved that Leslie Nielsen can be completely NUTS but it wasn't until his dramatic turn in the FILM Nuts that Frank Drebin returned in The Naked Gun Trilogy.
Compare and Contrast with Nielsen's more serious poses with the Gun!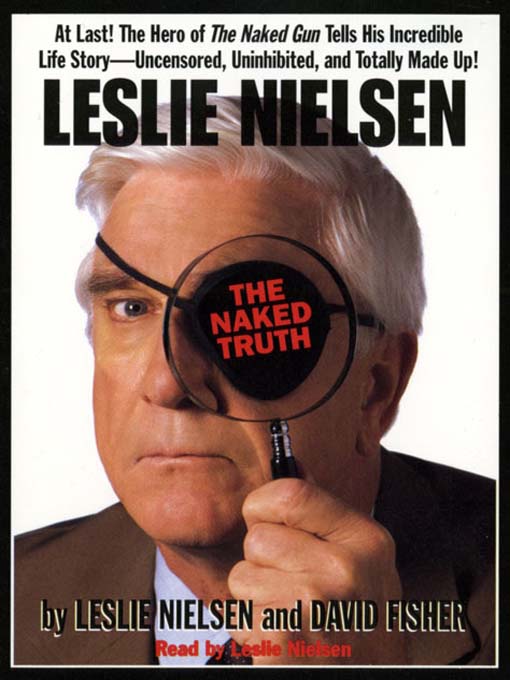 "So NOW he tells the Truth?"
His nose didn't grow on the cover of his hilarious anti-biography The Naked Truth, but it should have. If you thought he was way out in outer space in Forbidden Planet, you've got to read this!!!
"Deadpan and Loving It?"
Leslie Nielsen as Dracula in one of the very silly follow-ups Farces that came after Airplane! and The Naked Gun, Mel Brooks' Dracula: Dead and Loving It!
While it's certainly no Blazing Saddles, it is one of the better of Nielsen's latter-day slapstick efforts!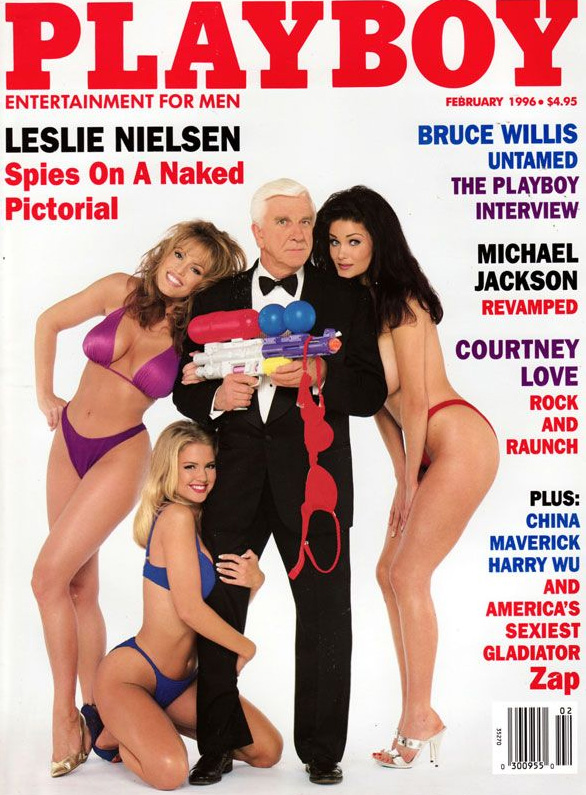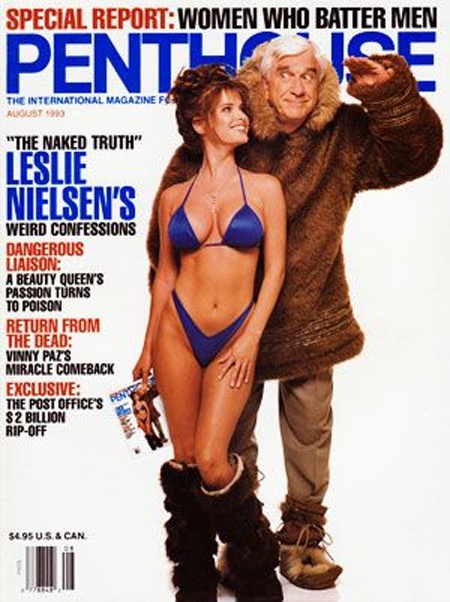 "Alive and TOTALLY Loving It?"
Leslie Nielsen may have been on the cover of Dell's Four Color but that hardly compares to his appearance on the cover of both Playboy and Penthouse!
It's good to be Leslie Nielsen!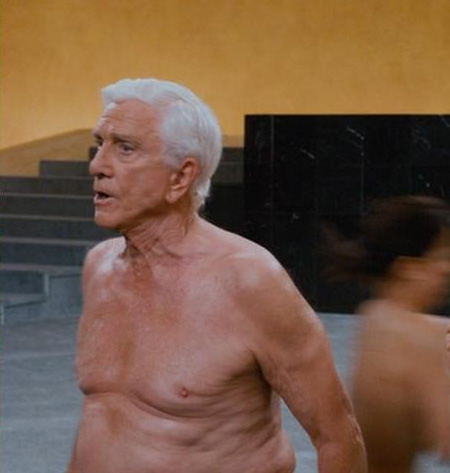 "That's all well and good, but what's he look like NUDE?"
While I'm sure that if you search the web there will be a woman named "Leslie Nielsen" that you'll actually WANT to see naked, that chick isn't this year's DMOTY Honoree, so deal with it, Pink Boy!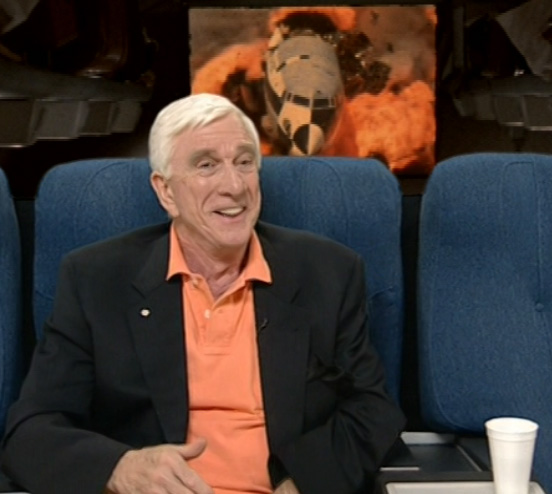 "The Ride never Ends!"
Leslie Nielsen kept having fun until his last year with us, the year we salute him, 2010!
Who is the Dead Man of the Year for 2010?
I can't tell!
Oh, you can tell me, I'm Leslie Nielsen!
Okay, it's Leslie Nielsen!