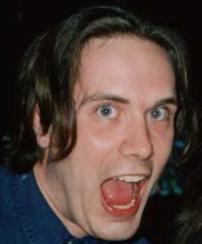 J.C. Mašek III
The World's Greatest Critic!

Let me tell you, it's not easy what I do. I have to go watch movies, read books, watch Television, go to Concerts and listen to CDs then sit down in an air-conditioned office and tell people what my opinions of these subjects were just as soon as I feel like doing it.

Okay, now that I've seen that in writing, I guess what I do is easy! But it isn't cheap... I mean, as a special promotion for this new Concert Club in Long Beach (The Vault 350) the thirty dollar tickets were only five bucks each but...

Okay, it's cheap.

So I'm cheap and easy! Sue me! But don't tell that to the lovely hostess at the Vault that slapped my buddy Mike and I at the Band's vacant table (the best seat in the house) at the last minute after yours truly figured we didn't need dinner reservations to get a good seat.

Of course... now that I think about it... maybe she thought Mike and I were actually in the band! Let's face it... the days in which I was that skinny young kid at all the Classic Rock shows, and all the older folks wondered if I'd confused this performance with an Iron Maiden concert are long gone. Now that I'm fat and sport a longish coiff of graying hair, hell, I could have probably wandered on to the stage and someone might have handed me a Violin.

Sigh.

Be that as it may, I was able to tick off another great Classic Rock band from my expansive list of groups to cheer for before their respective buckets get kicked! Yep, I just saw Kansas in concert, and from the moment Robby Steinhardt slung both his arms out and screamed "HELLO CALIFORNIA AND WELCOME TO KANSAS!!!" to the final punch of the final encore, this was one killer show!

Naturally, any band with a release called Leftoverture is bound to begin with an instrumental entreact to set up the Prog Rock we were all in for. But after that vamping flourish, all the recordings ended, the curtains flew open, and the music was live, baby, live!

Led by the dynamic screams of keyboardist (and co-lead singer) Steve Walsh, Kansas' progressive classics (with as much Classical music as there was Proto-Metal in the mix) actually vibrated every seat in the house. From the bigger hits, to the excellent album tracks, the bases were covered and no stone was left unturned.

The live version of that disasterpiece known as "Magnum Opus" has never sounded so heavy as in 2004, especially when played by one-eyed guitar master Richard Williams! Looking like a Pirate, but playing like a virtuoso, Williams never sang, and essentially stuck solely to his thunderous electrified six string work (and occasional acoustic texturing). When Williams took the front of the stage (accompanied by bassist Billy Greer), he did so without ego, but blew the lid off of the vault anyway.

Greer also sang, particularly shining when backing up Steinhardt and Walsh on "Point of No Return". Though he meshes beautifully with thundering percussionist Phil Ehart, Greer never sticks only with Rhythm. His Bass Playing is all that and a supersized order of Fries, but on a number or two, he set the bass aside and accompanied old Williams on acoustic six string. The man is a consummate musician.

I'd be remiss not to point out that Ehart is no mere time-keeper himself. Though the occasional Kansas Song is actually percussion free, Ehart's tenure on the stage was marked by the quiet drumming of the more ambient and peaceful pieces, as well as an almost Keith Moon or Neil Peart Psychosis on the heavier and more operatic songs throwing those sticks out in an omni-directional blur!

It is, and has been, Robby Steinhardt who steals the show, from his diverse fiddling styles to his very voice, to his banter with the audience. While he's not the immediately recognizable vocalist that Walsh is, maybe, his leads and backups sound great, and his violin has proven indispensable, and far from a gimmicky piece. He's also funny! "Who says you can't Rock at 54 Years Old?" he screamed after that hard rocking "Magnum Opus".

The guy looked like a guest star on "American Chopper", but played that sweet string like you wouldn't believe. He kept the audience involved in song and laughs, even leaving the stage to play an electric violin solo on the floor with all the heads. As the spotlight captured Robby's "floorshow", I noticed that their actually was some dust in the wind, caught in the beam of light. Heavy Bass and drums indeed... but we couldn't complain... "Dust in the Wind" is Kansas' biggest hit, so it was appropriate... iiiiiiiiiiiiiiiiin a Bad Joke kind of way.

And of course, when Robby Introduced the band and told us all goodnight, we were completely fooled into thinking the night was actually over. Like there's even such a thing as a Kansas show without "Dust in the Wind" and "Carry On Wayward Son". Encore time, and those two songs were an easy money bet. "Dust in the Wind" still sounds beautiful with the dual guitar layering, soft vocals by Walsh and Violin solos by good old Robby!

Ehart returned to the stage for the appropriate finale of "Carry On Wayward Son". It's "appropriate" especially because "Cary On..." is the best encapsulation of what Kansas is and what they can do. Everything from the Classical to the Heavy Metal to the softer breaks to the overall Progressive Rock sound of Kansas is there, and still sounds incredible twenty-seven years after going gold. Walsh, Steinhardt and Greer harmonized on the chorus, but broke into three complementary parts when the song called for it. It was well worth the wait, even for those who consider "Dust in the Wind" a bit of a chore (not that I'm one of them).

If there was any flaw of the night, it wasn't on the part of Kansas themselves. The mix was not quite up to the loud, but well-parsed sounds of this Leftoverture-heavy evening, and Walsh's vocals suffered in sound because of it. He still sounded good, but he almost had to compete with Williams' ripshit guitar when the Mix did battle with the volume. I'm sure there were those in the crowd who missed Kerry Livgren and Dave Hope in the lineup... but sorry, Toto, I don't think they're in Kansas anymore.

Regardless, there were five guys on that well-built stage who really gave the impression of shooting for the best possible show they could give. It's sad that they don't make bands like they used to. Rock may never again be so experimental and "get hits" at the same time. Kansas still rocks because they love their work, and do that work better than just about anyone else. Four and One Half Stars out of Five for Kansas's last ever show... of 2004, that is! Look for them again playing the Tail Gate Party at the 2005 Superbowl. Let's hope Robby doesn't give us our next big Wardrobe Malfunction! Ach! The mind boggles!