---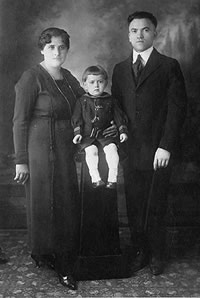 "Pre-Marvel Family!"
Rose, Jacob and Benjamin Kurtzberg in 1920.

"Clash of Ideas!"
Just a few of Jack Kirby's creations erupt from his drawing board in this Desktop Wallpaper!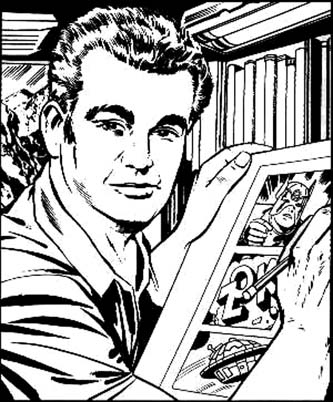 "Self Portrait"
One of the most interesting and realistic of Jack Kirby's self-portraits, this image from Superman's Pal Jimmy Olsen #141 shows him illustrating a typically fascinating page featuring his creation ORION, while he discusses (in varied word-balloons added later) his work at DC in both the Golden Age and the then-current days of 1971.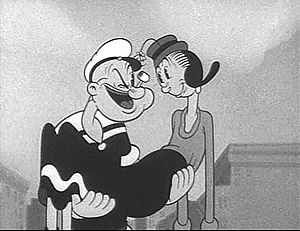 "Eyes-a-Poppin'!"
Working for Max Fleischer's studio, Jack Kirby did in-between artwork on Popeye cartoons like this one.
There's no telling how many "Kirby Dots" he hid in various frames. The mind boggles.

"The Blue Beetle!"
Jack Kirby's first published Superhero work was on The Blue Beetle (published under the pen name "Charles Nicholas". This is a far cry from his later work, but Kirby's use of light and shadow already showed amazing promise.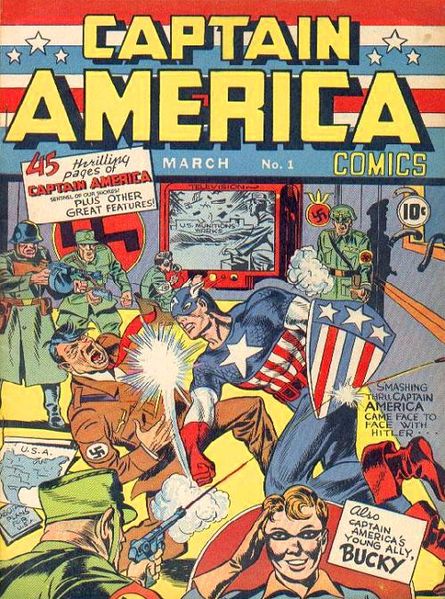 "A Star (Spangled Avenger) is Born!"
Simon & Kirby's Captain America knocks Hitler cold, years before the USA enters the War on the cover of Captain America Comics #1.
You've got to love that both the writer and the artist on this issue were proud young Jewish men!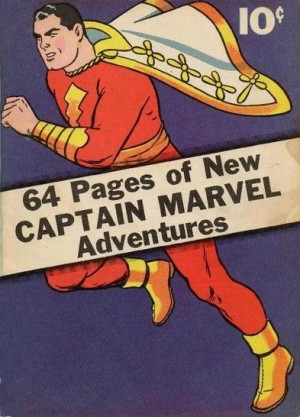 "Shazam!"
The cover of this first newsstand Captain Marvel comic book (after the sought-after ashcan) was drawn by Captain Marvel creator C.C. Beck... but 100% of the interior stories were handled by Jack Kirby and Joe Simon!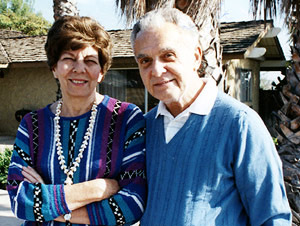 "The Happy Couple!"
Jack Kirby married Roz Goldstein in 1942 and they remained together as friends, lovers and even collaborators on comic book art, until the time of Jack's death in 1994!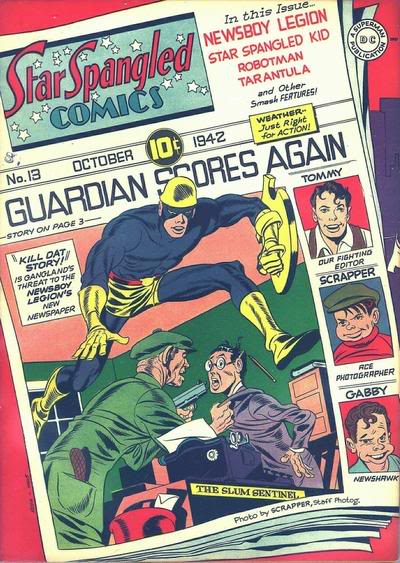 "A Captain America for DC!"
With his blue costume, mask/ helmet and omnipresent weapon shield, The Guardian gave the impression that Captain America left his stars and stripes at home (don't worry, they're right there in the comic's title)!
One of Kirby's first big moves when he returned to DC in 1970 was to bring back The Guardian in a cloned body (much as Lee and Kirby brought back Cap, preserved in Ice six years prior).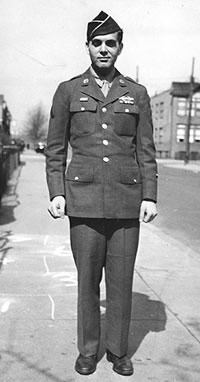 "The Fighting American!"
Jack Kirby left the Comics field for a two year stint in the US Army during World War II.
Though he surely missed Captain America, Private Kirby's duties actually included drawing as a part of his recon missions!
About the DMOTYs:
---
The Dead Man of the Year Awards
AKA: The DMOTYs (de*MOT*tees)
@ WorldsGreatestCritic.com!
---
You've heard of "Man of the Year" awards, given in recognition of the person who has had an enormous impact on that annum. WorldsGreatestCritic.com takes looks at the past accomplishments of those who are no longer with us and takes great pains to recognize and remember those whose accomplishments still impact us after their deaths, even and especially when their names aren't always recognized for their work.

All nominees must have a current impact on Entertainment during the year in which they are nominated, influencing the Arts not necessarily commercially, but importantly nonetheless. The intent of the DMOTY award is to pay tribute to the nominees' influence by detailing who they were in life, why their legacy is still being felt today and beyond and what their influence has been and remains to be. In short, its a way to put a name on the accomplishments of those who might not be in the public eye to have credit given where due.

The Award can only be given posthumously, by definition, however there is nothing morbid about the Dead Man of the Year Awards. "Man of the Year" awards measure the works of those who are currently contributing, The Dead Man of the Year award honors those whose influence is still being felt with respect and fondness even after they've passed on!

This year WorldsGreatestCritic.com honors Jack "King" Kirby the creator of some of the world's most recognizable and iconic characters, including and especially those featured in some of 2011's biggest movies!

His was the the most impactful posthumous influence on our year in Entertainment for the content he provided (that spread out far beyond its original medium). Participate in nominating the DMOTY for next year, any year you want!

-The Always Respectful KNEUMSI!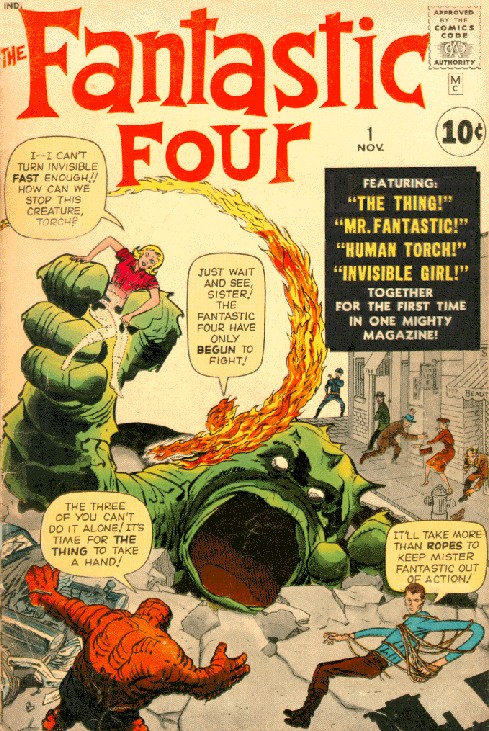 "Creature Feature!"
Fantastic Four #1 brought Marvel Comics into the Silver Age and Jack Kirby back into the limelight!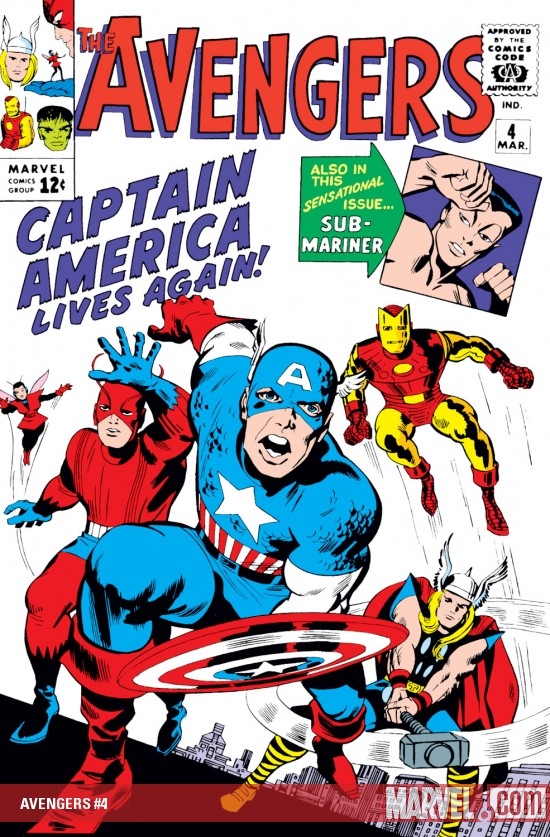 "Back from the Watery Grave!"
Jack Kirby's first big successful character is resurrected in Avengers #4... Stan Lee thought of how to bring him back... Jack Kirby still got to draw him!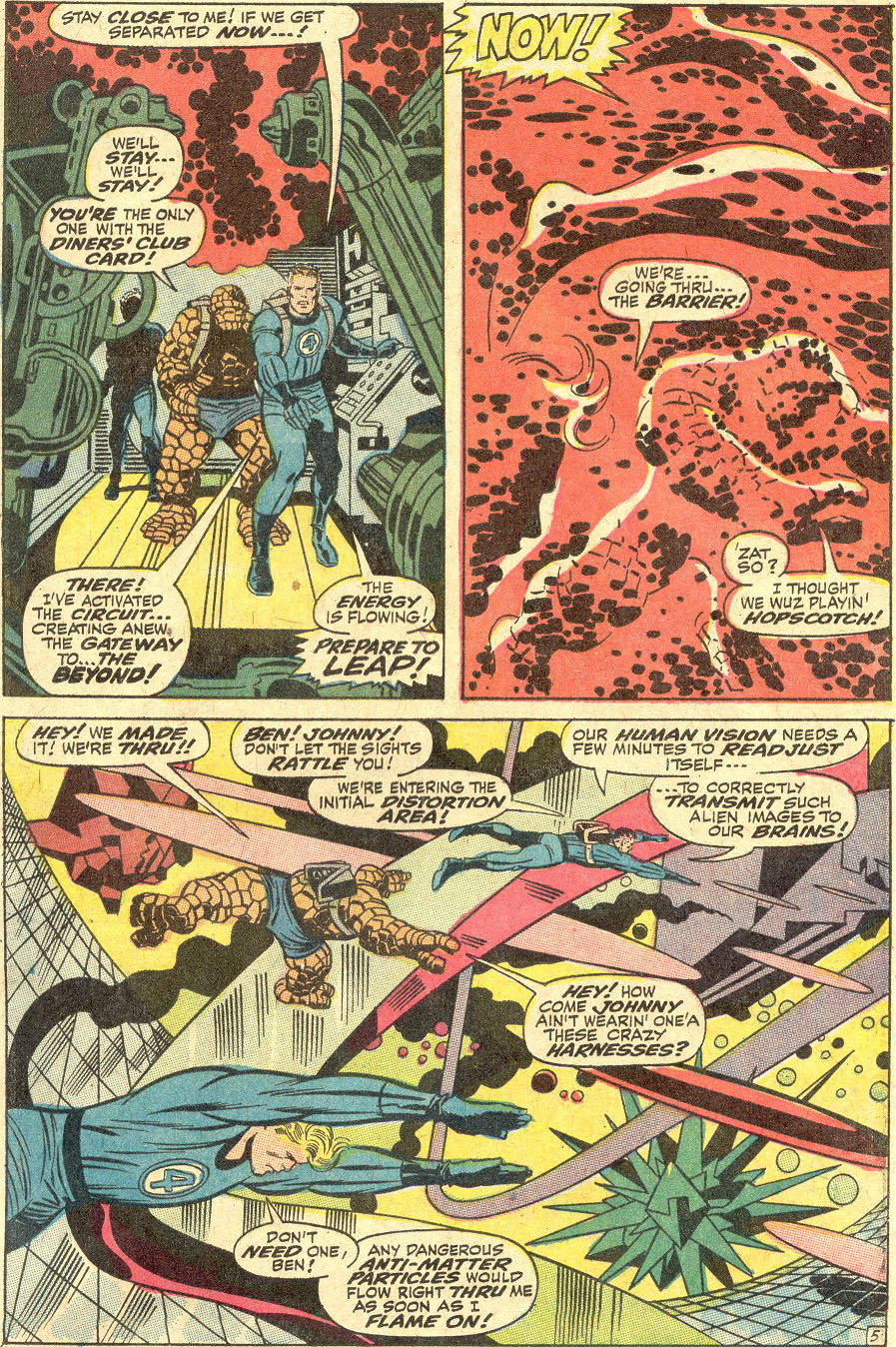 "Kirby Dots to the Negative Zone!"
From Fantastic Four Annual #6
(November, 1968).
Kirby's art took on a more experimental, detailed and intricate look after he delegated more of his work to other artists and took more time with his drawings. The landmark Fantastic Four Annual #6 is a prime example of this era as well as a unique showcase for his rendering of energy fields in a technique now known as "Kirby Dots".
[Dialogue by Stan Lee, Pencil art by Jack Kirby, Inks by Joe Sinnott]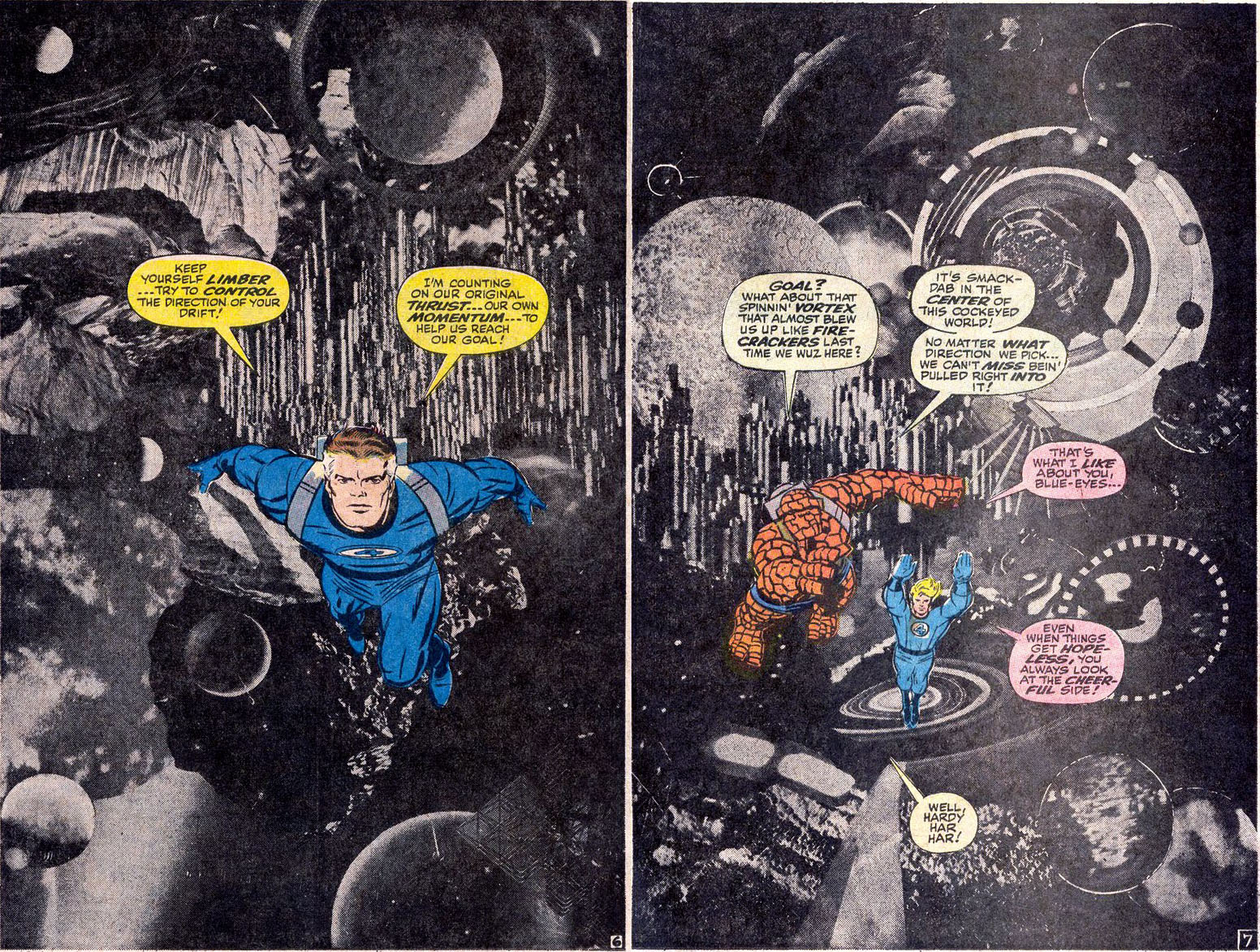 "And Beyond!"
Also from Fantastic Four Annual #6
(November, 1968).
Kirby's experimental phase also included work with Photo Collages, such as this one.
It's worth noting that this issue was published a few short months after the release of 2001: A Space Odyssey (a saga Kirby would later become a contributor to himself).
[Dialogue by Stan Lee, Pencil art by Jack Kirby, Inks by Joe Sinnott]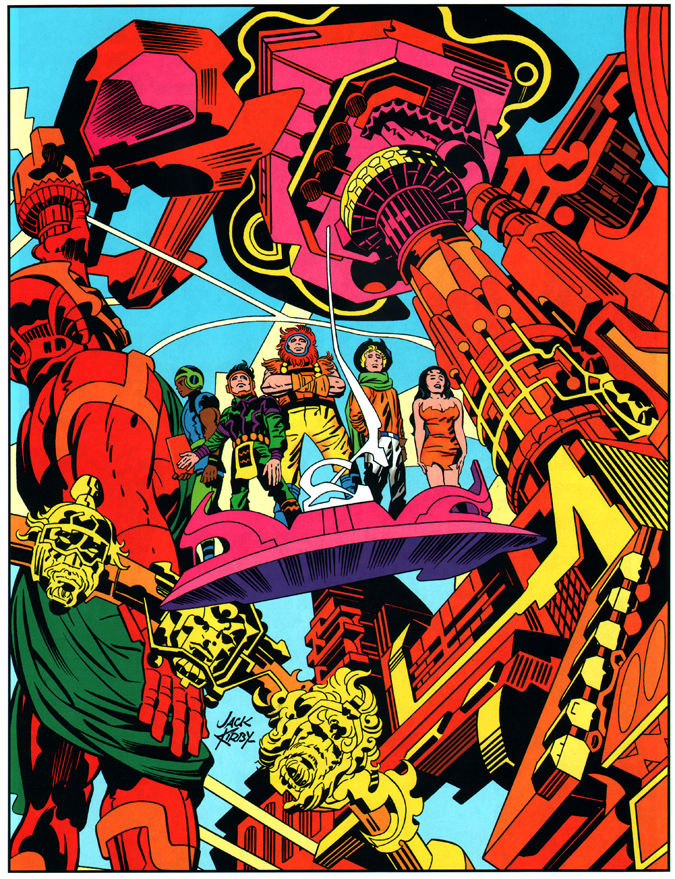 "Emergence of the Fourth World!"
Jack Kirby's return to DC came during a time of great experimentation and wonderfully painstaking renderings of characters, backgrounds, buildings, landscapes... you name it!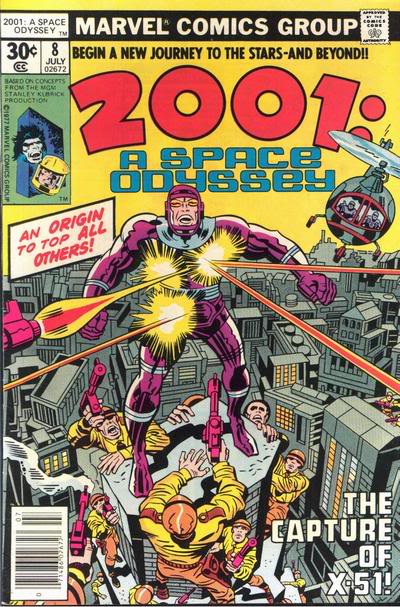 "Don't Stop... Dave..."
Before the saga of 2001: A Space Odyssey was continued in film or novel form, Jack Kirby was entrusted with expanding upon the saga in the pages of Marvel Comics.
The series only lasted 10 issues, but the character of X-51 became a Marvel Mainstay!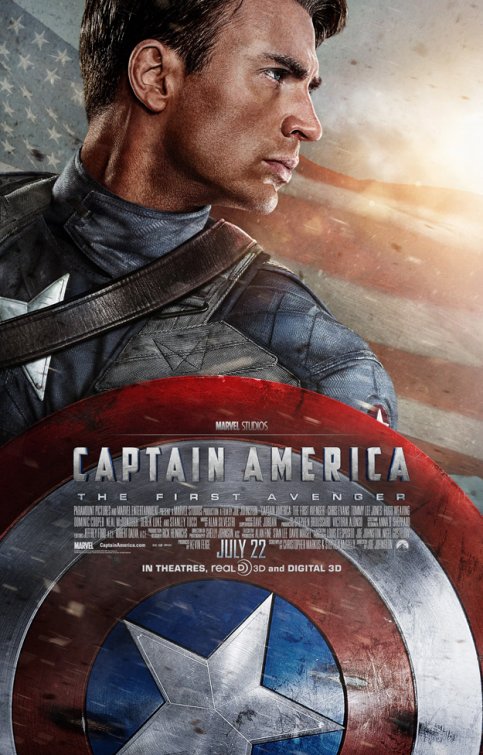 "A Legendary Legacy!"
2011 was a banner year for Jack Kirby at the box office, with all three Marvel Studios films featuring characters he created.
Not bad for a little scrapper from the Lower East Side!