Grand Funk Railroad Live at the Cerritos Center for the Performing Arts
(10/2/04)
---




---
They Came to our Town they helped us
Party down...
Can I get a Witness?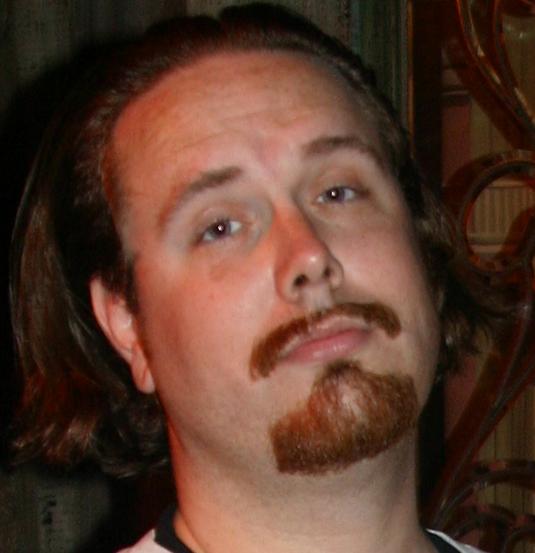 J.C. Maçek III
The World's Greatest Critic!

My Kemosabe Mike (well, one of the two) is an excellent human being to go see a Classic Rock show with, especially because he knows what he's talking about. It was his invitation that got my critical ass to the Cerritos Center to see the great Grand Funk Railroad! It's rare to see one of those Seventies Rock Bands playing at a such a Palace, but thems the breaks. This also gave me quite the revelation, as my slowly graying, long haired, overweight, thirty-year-old self just rubbed elbows (amid the Tuxedoed Ushers) with a series of even longer haired, even grayer, even fatter, mid-forties GFR Fans. In short, I think I just saw myself in 15 years. The very next day, I got a haircut, and I've just renewed my Gym Membership.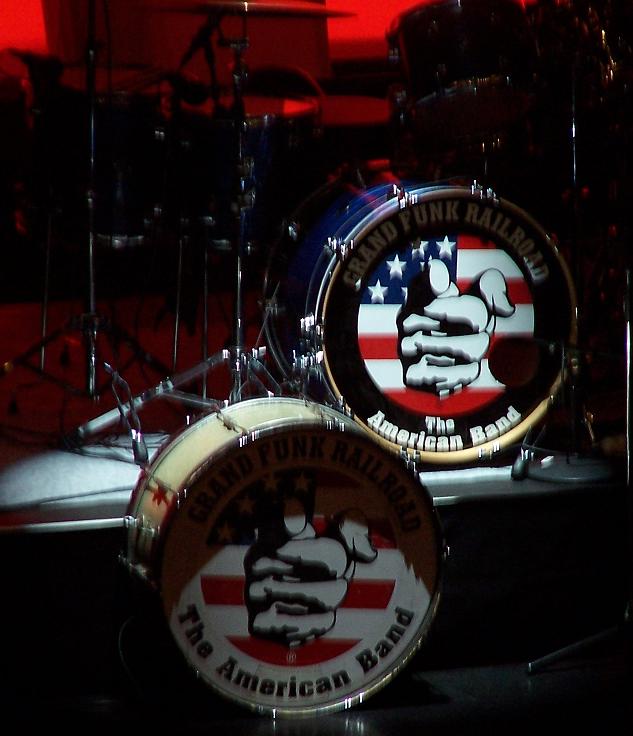 But I'm not changing my Musical tastes, and luckily, neither is Grand Funk Railroad! Below the chandeliers, oaken balconies and brass handrails two of the original three members of "The Road" were still at the top of their game. Mel Shacher was still driving the Road on Bass, accompanied by Don Brewer's excellent Drumming and Vocals. In that founding Guitarist/ Vocalist Mark Farner has gone off to pursue a career in Gospel Music (yep), the core rhythm section has expanded to include 38 Special's Pop-Songwriter Max Carl, Bob Seger's old Keyboard Player Tim Cashion and Kiss' long time Axe-Man Bruce Kulick!
The show itself? Remarkably good! But then, let's face it, Last Night's Show set the bar pretty damned low! From Kulick's cool licks to the position bending showmanship of Brewer, almost all the bases were covered and touched! I say almost because some of the album classics and more minor hits were sacrificed for less classy power ballads and more freedom for Max Carl's past. Also there were no naked women... at least not on the stage.
While it made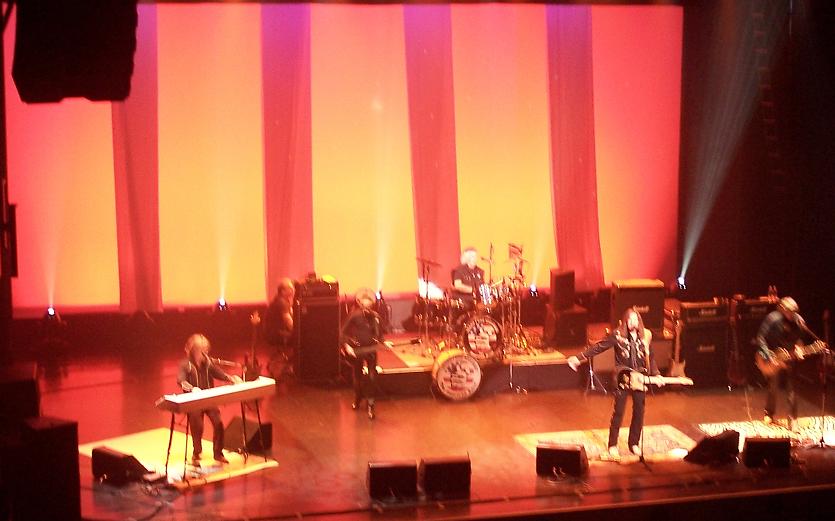 me somewhat uncomfortable to think that I was seeing a Rock Band performing the same damned song that Kylie Minogue was singing right then, somewhere in the world, I suppose if I had to hear somebody perform "The Loco-Motion" I'm glad it was Grand Funk Railroad! Of course that one was nothing compared to their hard driving rock of "Some Kind of Wonderful", which was Brewer's baby all the way. Both the performers and the crowd nailed the near-gospel cantor of "Can I get a Wit-neeeeeeeeess?"! Likewise, the cool, escalating beauty of protest song "I'm Your Captain" has never sounded better. The classy light show furthered this dead-on rendition's moody calm.
There were some other amazing highlights as well, especially Brewer's near-one-man-show Drum Solo (yes, GFR, you are "that big")! I haven't seen such a solo (with this much Audience Participation) since Kulick's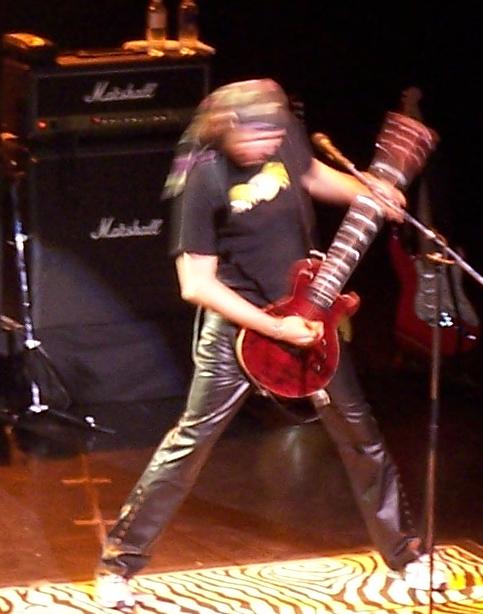 former Kiss-Mate Eric Carr loosened the rivets at Shreveport, Louisiana's Hirsch Coliseum! When Brewer invited the rest of the band back for an all-percussion down-home funky blues jam it was a welcome change from the usual stuck-in-a-rut band performance. In fact, there didn't appear to be a single person on that stage who wasn't having the time of their lives! They love playing music, and it showed!
Sadly there were a couple of Power-Ballads, including Max Carl's own "Second Chance" that was as thoroughly exciting to the audience as the intermission was. .38 Special fans and Adult Contemporary devotees might have been ga-ga for these moments, but at the sacrifice of the Road's "Footstompin' Music" or "Heartbreaker", the balance isn't made. As Mike stated "Yeah, I took a 'big Power-Ballad' earlier this afternoon!" Let's not sell Max Carl short though... his hard rocking voice is the perfect lead for GFR (second only to Farner) and accompanied the occasional leads of Brewer excellently.
One of Kulick's standards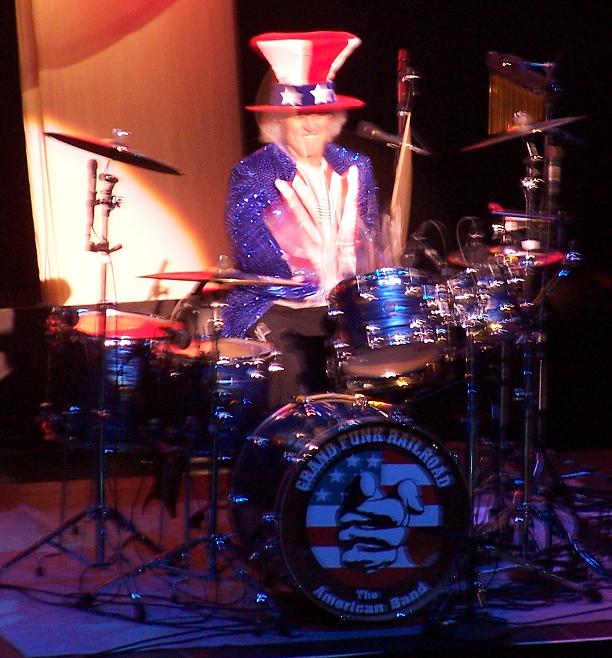 live (along with about fifty other guitarists) is a rock-solo version of Key's "The Star Spangled Banner", which set up the second half of the show (as his version used to help close Kiss shows). But as any GFR fan could tell you, the odds were about a million to one in favor of a certain AOR Rock Track being GFR's closing number. Yeah, after GFR left the stage with a big fat "Good Night" we were no more fooled than we were when Ellen DeGeneres used to talk about her boyfriends. Yep... it took all of forty-five seconds for Brewer to bound back on the stage in full Red White and Blue Patriotic Regalia (still looking more like Robert Tilton than Uncle Sam) and led the group in a rousing version of "We're an American Band!" If we weren't hoarse by then, this sing along sure made me reach for the throat spray! It was a fitting, if predictable, cap on a great evening!
Even though "The Loco-Motion" is on the same list as "The Hokey-Pokey" as far as dance "classics" go, and a little too much pop edged out some needed Road songs, Grand Funk Railroad still nets a noteworthy Four Stars out of five thrity five full years after their first release! It was one great sounding, great looking rock show, fully worthy of the fifty dollar ticket price. Now, if you'll excuse me, I need to hit the gym and the salon... When the Sixty-Something Don Brewer is still better looking than I am at 30... it's time for some better Health! See you in the next reel, Skinny!
Click here for MORE reviews of MORE American Bands!
I'm still your Captain...
---
Grand Funk Railroad live 10.2.4 Reviewed by J.C. Maçek III who is responsible for his own views, and for Foot Stompin' MUSIC!
Got something to say? Write it!
---
Don't you hate it when reviewers give lame-ass titles to their critiques? The only thing Lamer than titling this review "They Came to our Town they helped us Party down... Can I get a Witness?" would be to review a re-release of Casablanca and entitling it "Play it again, Sam!", or reviewing a Foghat show and entitling that one "You know the Rhythm is Riiiiiiiiiiiiiiiiiiiiiiiiiiiiiiiight!" The Drum Solo Ruled as did the All Percussion number!